First, I'd like to congratulate CH blogger Ken Burnside, for the success of his AVID Assistant Kickstarter campaign with 24 days to spare. Most game-related Kickstarters fail, so it's nice to see one of our own completing one successfully. Thanks to all of the CH readers who supported it.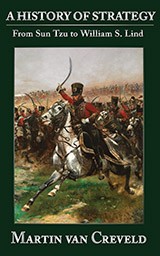 Second, if you subscribe to the Game Dev newsletter, you're aware that Alpenwolf has a new partner and I'm going to be writing the new rules for a certain SF infantry combat game. Without getting into any details concerning that, I want to discuss two of the primary principles I plan on utilizing as the basis for the core gameplay. I was recently editing a book by Martin van Creveld that we'll be publishing in another week or so, called A History of Strategy, and one thing that occurred to me while I was working on it and reading his Technology and War, was how the great stress that Clausewitz placed on friction, and in particular, on information in war, was seldom modeled at the tactical level in wargaming. Clausewitz wrote:
A great part of the information in war is contradictory, a still greater part is false, and by far the greatest part is somewhat doubtful. This requires that an officer possess a certain power of discrimination, which only knowledge of men and things and good judgment can give. The law of probability must be his guide. This is difficult even in the pre-war plans, which are made in the study and outside the actual sphere of war. It is enormously more difficult when, in the turmoil of war, one report follows hard upon another. It is fortunate if these reports, in contradicting each other, produce a sort of balance and thus demand further examination. It is much worse for the inexperienced when chance does not render him this service, but one report supports another, confirms it, magnifies it, continually paints with new colors, until urgent necessity forces from him a decision which will soon be disclosed as folly, all these reports having been lies, exaggerations, and errors.

In a few words, most reports are false, and the timidity of men gives fresh force to lies and untruths. As a general rule, everyone is more inclined to believe the bad than the good… The leader, firm in reliance on his own better convictions, must stand fast like the rock on which the wave breaks. The role is not an easy one; he who is not by nature of a buoyant disposition, or has not been trained and his judgment matured by experience in war, may let it be his rule to do violence to his own inner conviction by inclining from the side of fear to the side of hope; only by that means will he be able to preserve a true balance.

This difficulty of seeing things correctly, which is one of the greatest sources of friction in war, makes things appear quite different from what had been expected. The impression of the senses is stronger than the force of ideas resulting from deliberate calculation, and this goes so far that probably no plan of any importance has ever been executed without the commander having to overcome fresh doubts during the first moments of its execution.
Now, Advanced Squad Leader did an excellent job with morale. Previous editions of this particular game manfully attempted to address communications and control, albeit in a clumsy manner that was not very gameplay-friendly. But few, if any, games, have successfully addressed the issue of information in war on the tactical level. What passes for "fog of war" is largely limited to something like the ASL concealment mechanism, in which line-of-sight immediately results in full and correct disclosure of the enemy forces. And while this makes sense in light of the obvious limitations of tabletop gaming, it is somewhat strange that computer wargames have not substantially addressed this issue to the best of my knowledge.
So, my thought is this: what if line-of-sight provided unreliable information in the manner Clausewitz describes? What if one benefit of unit experience was the ability to correctly identify enemy units as well as their quantity? There is ample historical precedent after all. One need only read a history of any post-Normandy WWII battle to realize that American troops were prone to misidentifying almost any German tank as a Tiger.
To most American troops, any big tank trying to kill you was a Tiger. Admittedly, the sloping frontal armour of a King resembled that of a Panther Tiger, but a soldier in trouble doesn't stop to count the road wheels or turn to his recognition handbook. Similarlly, many Allied memoirs talk of being under fire from 'eighty-eights', whereas msot German field and anti-tank guns were of 75mm calibre.
– Snow and Steel: Battle of the Bulge 1944-45 by Peter Caddick-Adams
The mechanism is relatively simple to implement. For each unit, there is a short catalog of mistaken quantities and types based on probability. One is much more likely to mistake a 75mm field gun for an 88mm than for a 37mm, after all. It is obvious that troops tend to overestimate their enemies rather than underestimate them, both in terms of quality and quantity, so the tendency should be to err upwards. Both the visual and statistical information reported to the player will be inaccurate, then updated as other units make contact or sustained contact causes the initial units to correct their initial error.
It seems to me that this could be as important an advance in wargaming as the ASL morale model was. So, what do you see as the likely costs and benefits of implementing an Unreliable Information model, or if you prefer, Tactical Uncertainty principle?