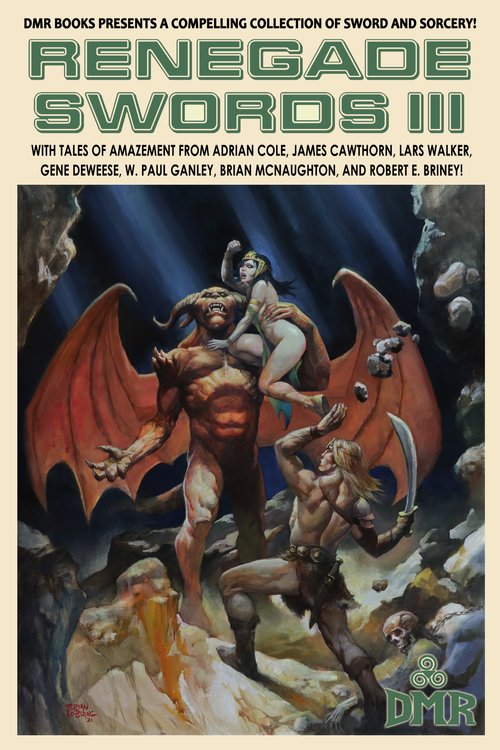 DMR Books' Renegade Swords series of anthologies have collected flotsam and jetsam within the sword & sorcery genre with a new book each of the past three years. I have covered the first and second volumes.
The newest is volume III. Format is trade paperback, 191 pages, cover by Brian LeBlanc.
Contents:
Adrian Cole                                                     A Ship of Monstrous Fortune
James Cawthorn                                             Handar the Red
Lars Walker                                                    Magic's Price
Gene Deweese                                                Quest of the Veil
W.  Paul Ganley                                              The Fire-Born
Brian McNaughton and Robert E. Briney     The Black Tower
Adrian Cole's "A Ship of Monstrous Fortune" was originally in the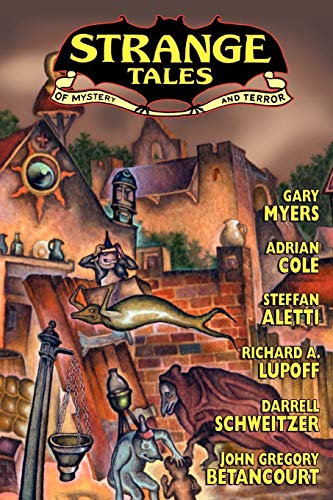 brief revival of Strange Tales of Mystery and Terror #8 (2003). This is a tale of Morduin and Scaldifor, two warriors on a rather unusual ship that deals justice to those who deal in dark forces. In this case, they join the crew of the ship captained by the Barbaranza Brothers. There ships bring back riches but at huge costs of the crews who sign up.
Cawthorn's "Handar the Red" is an interesting piece in that is appeared in Tarzan Adventures over three issues in 1958 when Michael Moorcock edited the magazine. Handar has something and others want it. The story is short, episodic over three short chapters, and never flags in action.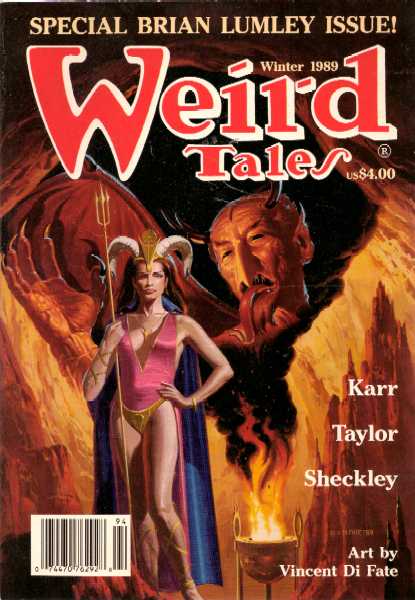 Lars Walker had some stories in the Scithers/Schweitzer era Amazing Stories of the 1980s and had a few novels with Baen Books in the 1990s. This one is from the revival of Weird Tales with a Norse mythology theme.
The rest of Renegades III is made up of contents from a small press booklet Shanadu from 1953. It is a shared fantasy world.
Gene Deweese wrote a few science fiction novels and also some tie-in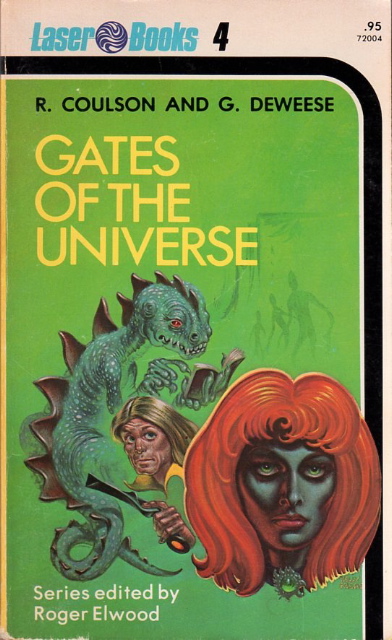 novels to media like Star Trek. "Quest of the Veil" has Evarin the armorer's apprentice finds a parchment telling the location of the "strange and wonderful cloth" called the Veil. The story and style is of a sort of fantasy forgotten today. It made me think of A. Merritt and Henry Kuttner's "science-fantasy" novels of the 1940s.
W. Paul Ganley is best known as publisher of Weirdbook.   "The Fire-Born" is a portal fantasy with Hank Weston leaving our world and entering the world of Shanadu. Adventures and swashbuckling ensue. There are some trippy-dippy scenes with an underwater city in a lake.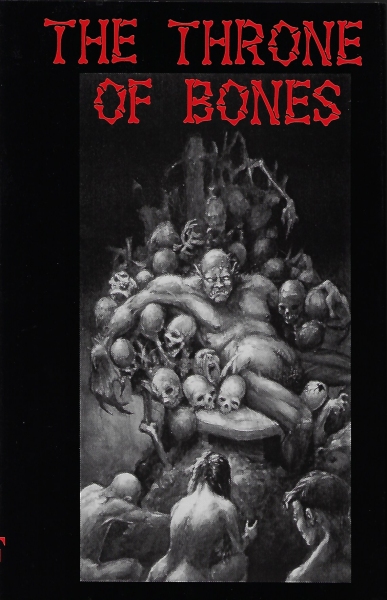 "The Black Tower" has two interesting people. Brian McNaughton wrote The Throne of Bones in the 1990, which is one of the best Clark Ashton Smith type fantasies I have ever read. Robert E. Briney is probably best known for non-fiction. He produced bibliographies of early science fiction,  articles for Amra, published The Rohmer Review, and wrote entries for Twentieth Century Western Writers.
"The Black Tower" has a noble barbarian warrior fighting against an expanding empire, evil priests of a dark god who like human sacrifice, and a maiden to be rescued. This is a 26,000 words novella that hits all the right buttons. With some changes this could have run in a pulp magazine like Two Complete Science-Adventure Books at the time. The ending is very Brian McNaughton.
I have recommended some fiction for Renegade Swords and even scanned some items. Unfortunately, one deceased author's agent does not respond to inquiries. We can't even find who owns the rights to another writer who started in the pulp magazines. Publishing can be filled with aggravations. Hoist a favorite beverage to DMR Books for the labor of putting together these tomes of obscure sword & sorcery. Order Renegade Swords III for some summer reading.