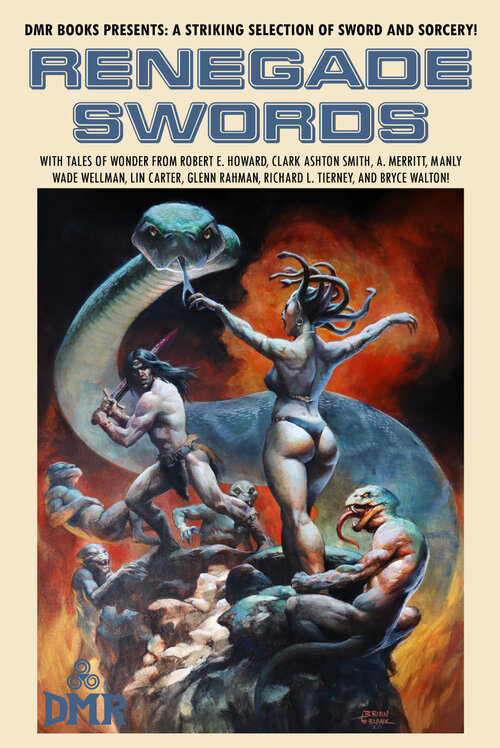 There is a rush discovering unknown or obscure fiction in your favorite genre.  Sometimes you find a great story in an anthology or collection. You find that digest or pulp magazine that contains a story you never heard of that pushes all the right buttons. Swords & Sorcery, The Fantastic Swordsmen, The Young Magicians, Swords Against Darkness all have provided an escape from the mundane world. Reprint sword and sorcery anthologies have been non-existent since Robert Adams' Barbarians paperbacks in the 1980s. DMR Books has brought out a new reprint collection of vintage sword and sorcery fiction.
Renegade Swords is a new book collecting eight stories:
"The House of Arabu" by Robert E. Howard is a story first published in The Avon Fantasy Reader by Donald A. Wollheim. My guess is this was written by Robert E. Howard in the early 1930s around the same time as the Turlogh O 'Brien and Bran Mak Morn stories. A wandering Argive warrior finds evil in Mesopotamia.
"Necromancy in Naat" (unabridged version) by Clark Ashton Smith is a story in his Zothique cycle. Zothique, the final continents eons in the future where dark sorcery has returned.
"The Woman of the Wood" (previously unpublished version) by A. Merritt was the most popular story to appear in Weird Tales. Younger readers need to rediscover A. Merritt who occupied the position later J. R. R. Tolkien held.
"The Slaughter of the Gods" by Manly Wade Wellman is the last of the Kardios of Atlantis stories. This originally appeared in the anthology Heroic Visions from 1986. The Kardios stories have a joyful breeziness to them.
"People of the Dragon" and "The Pillars of Hell" by Lin Carter were in Fantastic in the middle 1970s. Carter set out to tell the tale of a wandering tribe with each story about adventure each generation. This is among the best stuff Carter ever wrote.
"The Rune-Sword of Jotunheim" by Glenn Rahman and Richard L. Tierney. There was once a magazine called Fantasy Book that lasted from 1981 to 1987. It was 8.5 x 11 inches in dimension and saddle stapled. It had high production values with generally good art for the covers. It ran all sorts of fantasy including sword and sorcery in most issues. As you can guess, this is a northern tale by two fine writers of sword and sorcery.
"Princess of Chaos" by Bryce Walton. I wrote a post about this story in my "Pulp Swordsmen" series. Reprinted from Planet Stories. The story has some gonzo elements including a scene where the hero kills a giant bat and makes a sail out of one of its wings.
I helped the editor with suggestions of some of the stories. The cover has a late 1970s retro look, not the static photo-shopped covers you see so much today.
You can get the book as a trade Paperback: 9" x 6", 196 pages, $14.99 or digital: $3.99 at Amazon.