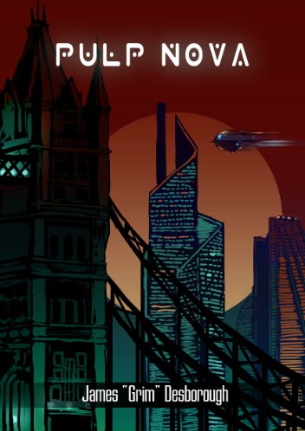 James Desborough returns to his vision of pulp fiction with Stain – Dead and Gone, the story of a hard boiled detective called up from "administrative duty" to work a murder case that nobody wants solved.  Stane, the drunk with a disturbing tendency to wind up as the partner of a dead cop, is your typical hard case detective.  He's crude, vulgar, and so cynical he makes nihilists look like Polly-Annas.  He doesn't get into any fights or chases or even any dangerous situations at all.  He just does a little detectiving, solves the mystery, then goes along his bleak and pointless way.
Which means this really needs to be two reviews.  One for the story as noir, which was great, and one for the story as pulp, which was complete pants.
As a piece of noir, this nails the feeling.  From the first page, when Stane deals with a hapless burglar through intimidation and a little light torture, to the last, when he blackmails his boss and violently assaults him, Stane is hard bitten, cold, callous, and utterly ruthless.  He's only half way to being an anti-hero, and not the good half, either.  Desborough writes with the clipped and callous style of the classic noir stories.  He shifts seamlessly between the first person musings, giving us a glimpse into Stane's outlook, and the third person limited omniscience that keeps us from getting too comfortable inside the head of this completely reprehensible cop.  As a noir story, it hits all the important beats – crooked cops, gritty city streets, explicitly gory murder scenes, you name it.
Which leads to the obvious question: What's all this Noir doing inside a Pulp collection?
There is some overlap between the genres.  One might even say there's some gray between the ebon style of Noir and the brighter and cheerier style of Pulp, but this story doesn't live there.  Desborough goes full on nihilist, bringing every ounce of hopelessness to bear in this story.  Stane doesn't engage in any of the standard pulp traditions.  He doesn't get into a shoot-out or a fist fight.  He doesn't save any dames.  He doesn't even meet up with a femme fatale.  He flat-out tells us that police work is like any other job – mostly routine paperwork and trying to keep the boss off your back.
One thing that Stane does engage in is interesting dialogue.  Desborough manages to use conversations both to reveal character and to drive the plot forward, but that's damning with faint praise.  He clears a much higher bar in making the dialog snappy, and in giving each character a unique voice.  This is one of those stories that could get away without using the phrase "X said", after the first conversation with a character, because the reader can infer who is talking at any given moment based solely on the voice of the character.  That's a lot hard to pull off, but Desborough manages it here.
Perhaps it's no surprise that the first two stories in Pulp Nova (this one and Chicol's Children) are both dark and dreary affairs.  The author's nickname is "Grim" after all.  While no surprise, it is a shame that this collection of pulps has so far missed out on the free-wheeling fun, the sense of adventure, and the call to heroism that the pulps embodied.  As it stands, this collection owes far more to the modern post-Christian tales of the meaninglessness of life than it does to the past masters of story-telling that made the pulps so much fun to read.  The first two stories are well written affairs, but they owe less to the pulps than they do to authors working in the late 70s through the Current Year.
Which leads us to the real difference between Pulp and other styles of writing.  It isn't setting.  It isn't subject.  It isn't style.  It's mindset.
The Pulp mindset is one that embraces the glories of Americana past.  It looks to the future with a positivity borne out of a love of virtue.  It's heroes are unabashed do-gooders who struggle to overcome the evil in other men and in their own hearts.  They respect the fairer sex by showing proper deference to femininity and proper disrespect to viperous women.  They are the kind of men who inspire you to be better, to look up, to strive and to struggle for a better world.
If an author can't accept these simple truths, if he feels the need to 'deconstruct' pulp or to 'update' pulp to fit a more modern zeitgeist…then maybe that author doesn't really understand what the pulps were, where they came from, or how to recapture the magic.
Stain – Dead and Gone fails by presenting a point-of-view character who relishes his decision to live as one.  While it's a fine story for those who love dark nihilism, Stain just isn't very good pulp, new or otherwise.