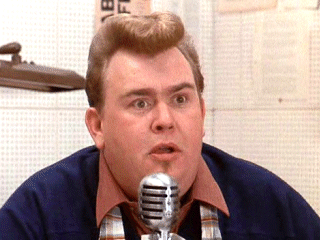 Castalia House blog has a new columnist on board: Forrest Bishop. And let me tell you, he's about to serve up some really WEIRD stuff for ya. I mean really weird!!
In fact you can tell this is crazy weird just by the reactions to his first piece. People don't quite know what to make of it! I think that's a good sign, really. In fact, it reminds me of some of the comments I got back when I was first starting out here.
So check it out. And stay with it. Trust me, it gets weirder…!
—
Meanwhile February was our biggest month ever with a whopping 47% increase over the last record. Given that Nick Cole and John C. Wright aren't just putting in cameo appearances here, I expect this to happen again soon!
Instalanches notwithstanding, we drive traffic and discussion wherever we turn up. The number one post for February over at File 770 is from the link round up that pointed fans to Rawle Nyanzi's commentary on the burgeoning Pulp Revolution. Well played, sir!
—
People ask me how I deal with all this. And really… I don't know. I'd kind of gotten used to covering a really niche topic for an elite cadre of awesome people. It was kind of satisfying to keep up with basically everything on the internet that touched on it… but you just can't do that anymore! The conversation has gotten really, really BIG over the past six months or so here. It's extraordinary. What to do?!
Times like this, it's important to check in with people that have a proven record in letting you know if you're on the right track or not. Let's see what the RpgPundit has to say:
October, 2014: If the idea of the "read Appendix N" argument is to say "sci-fi/fantasy of the 40s-70s is much more profound than modern scifi/fantasy", then you kind of miss the point that it's still grade-school crap compared to things you could be reading.

June, 2016:  You know Appendix N? It's mostly meaningless. It's just @*!%ing filler for the book. It isn't the@*!%ing DaVinci Code. It's not The Key to the Mysteries of D&D that will uncover your precious UR-D&D that will make you more old-school than anyone else. It's not even a particularly complete or coherent or consistently good list of books. And NO ONE gave a@*!% about it in the REAL old-school days. Most of us didn't even read the list.

March, 2017: The point is, if no mythic hero other than a barbarian who burns cities to hear the cries of the womenfolk will ever be 'tough' enough for you, you just might not be the defender of civilization you think you are. And you're all in danger of becoming parodies of yourselves.
Hold the phone.
Check out that last ditty there. It's like this guy's exposure to the work of Robert E. Howard does not even go beyond a meme taken from the bastardized film adaptation. Bro, do you even read?
But yeah, I'd say we're pretty much on the right track here….
If you need another indicator in order to convince you, consider the number of comments on our posts here compared to those of our closest competitor:
Black Gate's comments on the front page right now: 0, 0, 0, 8, 0, 2, 4, 16, 2, and 0 comments.
Castalia House blog's comments on the front page right now: 0, 6, 3, 4, 15, 28, 34, 12, 57, 11, 60, and 41.
Face it. The Poindexters that show up with "helpful" advice on how to reach a broader audience…? They have no idea what they're talking about. The thing that they ask us to dial back is the usually very thing that is fueling our explosive growth. Besides, we're not looking to be taken seriously by anyone that happens to have a foothold in the establishment, be it literary, academic, "industry", or anything else. We're looking to change the rules of the game entirely.
That's why we write. That's why people show up. That's why the excitement within the wider scene dwarfs everyone else's. No matter how you slice it, this is just plain fun.
Why would we change anything in order to accommodate the sort of chuckleheads that haven't read enough to even know what we're talking about?
Talk about stupid!
But I really do appreciate the wise counsel I get from guys like Pundit. I have always taken it as an indicator that what I'm doing is working. It really does mean a lot to me…!