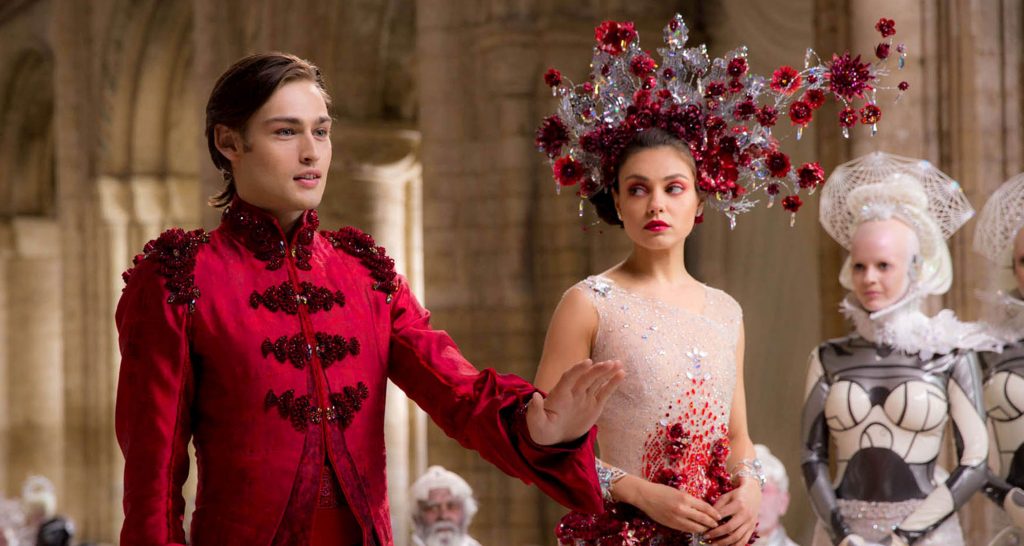 Okay, I actually quite enjoyed this one. Everything was gorgeous. The bad guys were evil and decadent. The world building was extravagant. The life of every human being on earth was at stake. There were androids, rat men, humanoid dragon-people, guys with bird wings… all the staples from the pulp science fiction tradition, really. There was even an epic space wedding!
The pace was so relentless you might not have noticed that it was leavened with exactly the same dearth of chemistry that you would expect from the guys that brought you the Neo and Trinity. I know on my first viewing I failed to catch that the dialog between the space hunk and the space princess was just plain godawful. The action and the visuals really did sweep me away enough that it went right past me. But yeah, it really was some of the most cringe-worthy stuff in cinema history.
But the acting and the dialog is not what ultimately ruined this film. Structuring it around a female romantic lead did. Here's why:
Stinger: Bees are genetically designed to recognize royalty.

Jupiter: Boy, are you going to be surprised when find out what I do for a living.

Stinger: It's not what you do, it's who you are.
This is an inherently anti-pulp premise that is being grafted onto an otherwise pitch perfect expression of classical space opera. Granted, Tarzan was Lord Greystoke. Arthur was the son of Uther. And Luke Skywalker turned out to be part of a space dynasty. "Who you are" does matter in these things. But what these characters do matters more. And these characters proving their worth and their mettle matters even more.
I don't know why it is, but for some reason… the moment a male lead is swapped out with a female one, all of this stuff seems to go out the window. Men and women are not interchangeable. The stories that spring up around them are qualitatively different. There is a reason why Andre Norton and Leigh Brackett and C. L. Moore and Francis Stevens defaulted to male leads, after all.
Even so, a space opera with a female lead does not have to be structured like, say, Queen of the Damned or Twilight or Hunger Games. Jupiter Ascending could have taken this story to an entirely different level. Certainly they were on the right track with the over the top space wedding of unparalleled ostentatiousness. But our girl was merely being taken for a ride. The only virtue she was displaying here was her gullibility. To give this tale the sort of punch that Princess of Mars had, she needed to be shown being willing to accept a 14,000 year long marriage to THE WRONG GUY in return for having all the people of earth be spared from a gruesome fate. Yes, that is the gist of the plot point at this stage. But the creators seem to be unable to present a female lead that can match the regal dignity of a Dejah Thoris. They stumble, blunder and undercut it at every turn. It's like they can't even imagine it!
Honestly, though… all of this is for naught anyway. Our heroine saves earth, sure. Even better, she is shown to be perfectly content cleaning toilets and cooking breakfast for her family at the end. It warmed my heart, anyway. But this just doesn't feel right. And when you get to the ending where she is rollerblading in the sky with her space boyfriend, it's pretty clear why:
No one cares if a girl gets the guy in the end.
It's no accomplishment to speak of, honestly. It's normal. It's reality's default setting, and thus… conveys no drama to speak of. If a young girl is as cute as Mila Kunis wants a guy, she can have her pick. They will line up for her whether she is available or not. And the guy that Jupiter Jones gets…? The filmmakers worked overtime to establish that he was really more interested in getting his wings back than anything else.
This is an anti-climax unworthy of space opera, pure and simple.
The story would have taken on an entirely different tone if it had been structured around the Channing Tatum character. A disgraced veteran having to take a lousy job as a mercenary…? The girl he's hired to protect turns out to be much more important than anyone realizes. Adventure ensues. Chemistry happens. One thing leads to another, and the big lunk finds himself getting married to a genuine space princess after rescuing her from THE WRONG SORT OF GUY that would have been married to her for COUNTLESS MILLENNIA???!!
Frankly, female leads just aren't up for something that awesome.