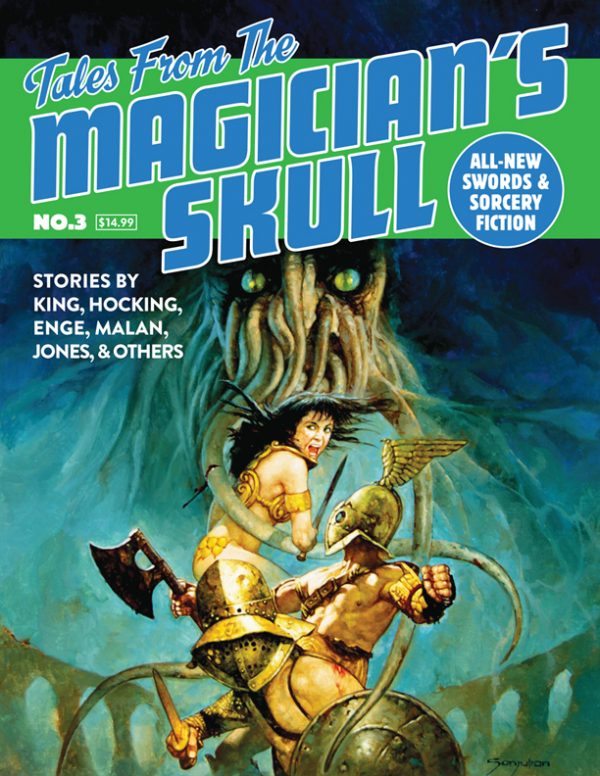 Two years ago, I looked at the first issue of Tales from the Magician's Skull. I have been attempting to get caught up with newer fiction and issue #3 this past week.
Same format as before, 8.5 x 11, perfect bound, 80 pages, very good quality paper. This cover is by Manuel San Julian. It looks like Xena fighting Cthulhu!
Tales from the Magician's Skull is meant to be a sword-and-sorcery fiction magazine. There was a magazine called Adventures of Sword & Sorcery back in the 1990s whose contents really weren't. Magician's Skull has a heavy emphasis on series characters. That is alright as readers like series.
William King's Kormak starts out the contents in "The Face That Fits His Mask." Kormak is on the trail of an abducted child. He contacts an old contact, a demon masquerading as a human to aid him. King's fiction is always dependable, and this is no exception.
I think John C. Hocking has been present in every issue with his character Benhus, this time in "Tyrant's Bane." I happen to know what John likes to read so I get his melding of the sword-and-sorcery tale with the hard-boiled detective story. Morticians use necromancy to assassinate the king. Benhus figures out who and then how to stop them.
"Five Deaths" by James Enge is another yarn of young Morlock Ambrosius. Morlock accompanies Lernaion as members of the Graith of Guardians. They track a harthang, a demon living in a human body. Morlock meets with a series of mishaps along the way.
Another series set of characters, Dulyn and Parmo in Violette Malan's "The Forger's Art." There are some Dulyn and Parmo novels from D.A.W. Books from around ten years ago. This is my introduction to the duo. They belong to the Mercenary Brothers and on the trail of a sorcerer who caused the death of one their brethren. The story was slight but a pleasant enough reading interlude. Long gone are the gosh, wow, this is new and great moments. All I look for is competently executed non-irritating stories at this point.
Howard Jones has a series featuring Hanuvar, an avatar of Hannibal. In this fantastic alternate world, Hanuvar witnesses the fall of this version of Carthage. "The Second Death of Hanauvar" has him attempting to rescue some women slaves meant to die in the arena. Howard has an action sequence that I liked. He put some thought into that one.
Sarah Newton is a new author to me. "The Wizard of Rembrance" is a fable that is Dunsanian in delivery.
There is a non-fiction by Samuel Dillon, one of my favorite current artists on "Working with Scratchboard."
The appendix is game statistics as per usual for the magazine. Each story has a one page illustration.
Editor Howard Jones has done a great job on keeping a regular schedule for the magazine.
If you like sword-and-sorcery fiction and want to see more, support publications like Tales from the Magician's Skull. Sword-and-sorcery fiction flourishes when you have a group of professional writers who worked their way up starting as fans.