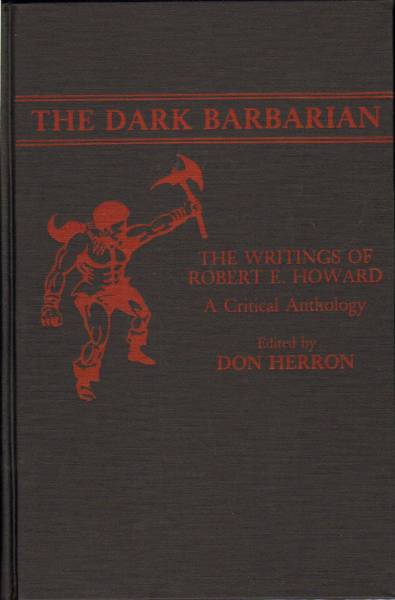 Last week I wrote about Robert E. Howard: A Closer Look. I mentioned two lit-crit anthologies edited by Don Herron: The Dark Barbarian and The Barbaric Triumph. These are logical follow up volumes if you are interested in reading about Robert E. Howard.
The Dark Barbarian is a landmark book. Published by the prestigious Greenwood Press in 1984, it was the first critical anthology on Robert E. Howard. Looking at the contents, I notice how this was created from within Don Herron's circle.
Contents:
Howard's Fantasy                                     Fritz Leiber
Robert E. Howard: Frontiersman of Letters Donald Sidney-Fryer
Barbarian Bard: The Poetry of Robert E. Howard Steve Eng
Through Black Boughs: The Supernatural in Howard's Fiction Dennis Rickard
The Western Fiction of Robert E. Howard             Ben P. Indick
Robert E. Howard: Hard-Boiled Fantasist             George Knight
Robert E. Howard: Professional Writer Glenn Lord
The Dark Barbarian                                     Don Herron
Appendix A: Robert E. Howard's Library
Appendix B: Howard's Suicide
Bibliography
Author and Subject Index
Title Index
Notes on the Contributors
This is another book that had a profound impact on me. I read it in early 1989 from a college library. I found a copy a year and half later at a Half-Price Books for $1.98 (!).
The first essay by Fritz Leiber is a cut and paste job of reviews he wrote in the 60s, mostly for The Howard Collector. Fritz Leiber was an observant and discerning reviewer and critic. I really like reading Leiber's non-fiction, almost more than his fiction.
Donald Sidney-Fryer's short essay is an examination of Howard's style of poetry in prose. Steve Eng's piece on Howard's poetry remains the best thing written yet on the subject. "Through the Black Boughs" by Dennis Rickard examines Howard's use of the supernatural to embellish his adventure stories and his relationship to H. P. Lovecraft's Cthulhu Mythos cycle. George Knight's "Hard-Boiled Fantasist" makes the case of Howard's importance within the hard-boiled fiction school of fiction. This is a watershed essay. Glenn Lord is the First Fan in Howardom. He started it all. His piece is on the nuts and bolts of selling fiction to the pulp magazines. Don Herron's "The Dark Barbarian" examines Robert E. Howard as a creator of a new archetype and fiction.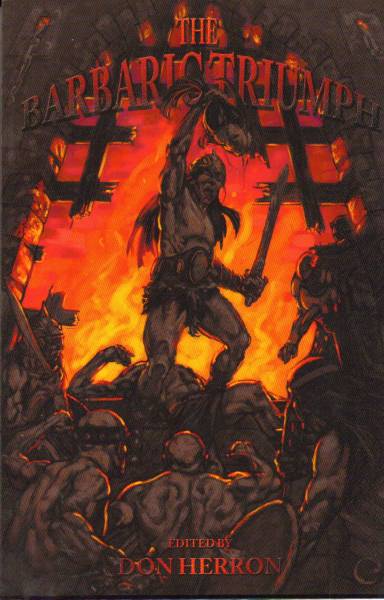 There is a successor volume from 2004: The Barbaric Triumph. Ten essays, I know eight out of ten contributors. Two pieces are reprints, the rest were original to the book.
Contents:
A Voice From the Past: An Overture from December 1943                Paul Spencer
Conan the Existentialist Charles Hoffman
Fists of Robert E. Howard                                     Mark Finn
The Shadow from a Soul on Fire: REH & Irrationalism                Edward Waterman
Heritage of Steel: Howard and the Frontier Myth             Steve Trout
Barbarism and Decadence                        Lauric Guillaud
Twilight of the Gods: Howard and the Volkstrumbewgung Scott Connors
Gigantic Gulfs of Eons: Kull, Conan, and Tyrant Time Steven Tompkins
Land of Dreams and Nightmares                         George Knight
The Reign of Blood                                                 Leo Grin
The Barbaric Triumph                                     Don Herron
Not as land breaking as The Dark Barbarian only because there can only be one that is first. This is still a very good anthology of essays. Personal favorites are those by Scott Connors, Steve Tompkins, and Leo Grin. Connors' piece discusses Howard within the context of the spirit of times. Steve Tompkins looked at the cosmic implications of Howard's fiction. Leo Grin examined hate as a driving force in Howard's fiction.
These works are accessible in style to the interested reader. Neither book is academic in presentation.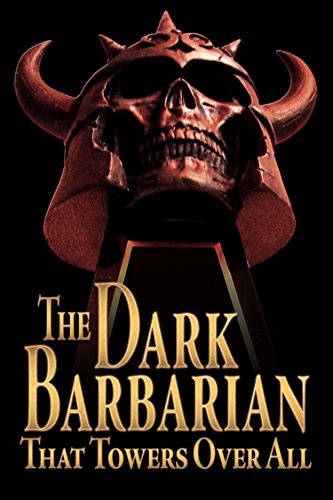 Now for the good news, you can get both volumes as an E-book from Cimmerian Press. The Dark Barbarian That Towers Over All collects both volumes plus the Don Herron volume Yours for Faster Hippos and some bonus items including the indispensable "Enter the Academics."
If you like this, you can always follow up with Cimmerian Press' Lovecraft's Southern Vacation by Brian Leno and my own Enter the Barbarian.