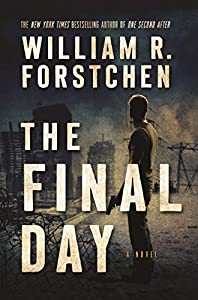 I wrote that William R. Forstchen's One Second After was the scariest book I ever read. The Final Day is the third book in the series. This picks up six months after the events in One Year After end.
John Matherson is delivered a message from the neighboring community from an army officer who claims to know him. Unfortunately the officer was robbed and beat up by robbers and near death. Matherson makes the trip over some mountains to find the officer has died with a message that an Army general he had served under wants to meet with him.
Contact is made with Matherson's former army commander, Gen. Bob Scales. The group of bureaucrats who claim to be the federal government plan to incorporate by force if necessary the U.S. east of the Mississippi River. Scales is in command of U.S. forces with the task of reuniting part of the country. If he fails, the "government" plans on exploding an EMP over Georgia to show the Chinese they mean business.
Soon after the meeting, a special ops outfit attempts to kill Matherson and his wife in the middle of the night. The government wants Matherson dead. Gen. Scales is caught between his orders and friendship with Matherson.  Meanwhile, some computer guys at the college at the town of Black Mountain are able to get some old computers that were not plugged in when the EMP weapon hit up and running. A guy who used to work for IBM and did work for NASA works on a way to hack into the government's satellite communications.
There are some revelations of what happened the day of the EMP attack. Gen. Bob Scales and his troops find a 1950s massive underground complex just north of Gettysburg, PA where thousands of family members of Deep State operatives are living.
There is a show down. I could not put this group down. Forstchen has some mysteries that build and then revealed. There is a new novel in the series, Five Years After. There are loose threads still as China has occupied the U.S. to the Rockie Mountains. Mexico claims the South West. Texas has declared independence and having none of Mexico's claims.
This series is the best doom porn I have read.