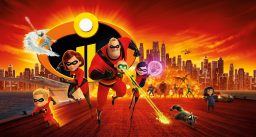 So, The Incredibles II: I didn't hate it.
And maybe that's not surprising. Despite being bought by Disney—who's run the Star Wars movies so far into the ground, they've plummeted underground and are now nearing the Earth's core (and also The Core is a much better movie than the last two Star Wars flicks combined)—they've managed to keep producing quality entertainment. Coco, for example, was a fine movie that touched on the importance of family, and the importance of remembering and honoring the dead. If you don't know where you came from, you have no idea who you really are.
And Incredibles II is basically about the importance of family. In the face of tribulations and trying times, the super-family pulls together and so pulls through.
Sure, Syndrome blew up their old house and almost all of their worldly possessions, and so they've been relegated to living in a dive motel, and that only for a few weeks as the supers protection program has been shut down. Without jobs, with very little in savings, and out of options, they agree to take a meeting with a man who wants to bring back the supers.
In short order Helen Parr, Elastigirl, is roaming the streets of the most crime-ridden city in the world, wearing a full costume, looking for crimes to stop and people to save. She's breaking the law to do so, it must be said, and the Parr's only agreed to be involved since the whole point of the exercise was to restore the reputation of heroes so they could be made legal again.
While she's off in another town, Bob Parr (Mr. Incredible) is left in charge of the family. A series of typical (verging on stereotypical) family problems erupt—the incoherency of Common Core math baffles Bob and Dash, Violet's crush no longer remembers she exists (side effect of a memory erasing by the government, to protect her identity)—but the biggest problem is the sudden emergence of Jack-Jack's super powers.
First seen in the Jack-Jack Attack short 13 years ago, they include pretty much everything, like walking through walls, laser eyes, flame powers, splitting into multiple people, slipping sideways into another dimension, shapeshifting into a superstrong demonic form, and a couple of new ones (seen later in the movie). Suddenly having to deal with a baby who can float through walls and burn the house down with a single temper tantrum, Bob is pressed to his utmost.
The movie is well done, technically speaking, up to Pixar's high standards. I found the new supers interesting, each having a distinct personality and set of powers, and the use of those powers was (in most instances) fairly clever. The super fights—of course there are super fights, are you kidding me—are novel and involving, and the plot, if predictable at times, is entertaining enough to make the movie worth watching. Kids, especially, will love this one.
Yes, there is more than a little "you go girl" modern feminism, and maybe a touch of "hapless man, super woman". Except that the women are not omni-competent, and when push comes to shove, Mr. Incredible really is a superhero. Would this movie have been better off without that? Sure. But it's a tiny part of a pretty good movie, and I can overlook it.
This movie is well above average, but not as good as the first. It suffers from what most sequels do: the need to expand the world, so the supers have something to do, and to expand the cast, so the supers have someone to do it to, means that worldbuilding and exposition eat up a lot more screentime than in the first. Not UNDUE amounts of screen time, certainly, it's worked in organically and not belabored, but it's still there, and it contributes to a lack of focus. The movie, at times, feels overstuffed.
If you liked the first, this one is an adept sequel that doesn't live up to the original but is still worth catching. It's not perfect, but it's still better than most of the garbage out there.
Especially the last two Star Wars movies.
---
Jasyn Jones, better known as Daddy Warpig, is a host on the Geek Gab podcast, a regular on the Superversive SF livestreams, and blogs at Daddy Warpig's House of Geekery. Check him out on Twitter.