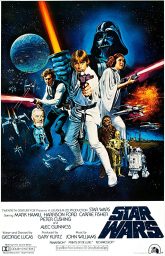 The release last month of the latest Star Wars has generated ranging opinions. I have not seen the movie nor the other two Disney movies. I have lost interest in seeing new movies and pulled the plug on cable last year.
I have been watching reruns of Battlestar Galactica on MeTV Saturday nights. I watched the series when it first showed in 1978. It made me think of the influence of Star Wars in the late 1970s on popular culture.
Science fiction movies in the 1970s up until Star Wars were generally future dystopias: Soylent Green, Silent Running, Logan's Run, you were going to get a whole bunch of downer watching these films. Star Trek was on syndication at this time. Most areas had it on at 5:00 P.M. or 7:00 P.M.
I got into watching Star Trek in 1976 when it was on at 5:00 P.M. I wanted big space battles. With Star Trek, you did not get much of it. The show was overlong at one hour for the plots provided. It was talky and increasingly preachy. "Balance of Terror" is probably the classic space battle episode with "The Enterprise Incident" (the only good episode of Season 3) an #2.
I wish I had known about Poul Anderson, Gordon R. Dickson, Jerry Pournelle, and H. Beam Piper at this time. I knew about Clark, Asimov, and Heinlein but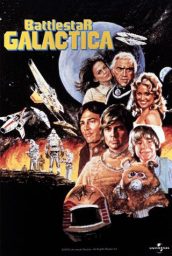 seemed to read way more Edgar Rice Burroughs than anyone else at that time.
I had bought some media magazine in Spring 1977 with an emphasis on science fiction and saw it mention an upcoming movie called Star Wars. Just by the title, it sounded interesting.
It was late June or early July when I first saw it. It was everything that I had wanted with Star Trek but never had. It stared out with action and it ended with action. The talk talk was mercifully short and to the point.
Lucas reached into medieval legend and classic fiction with Luke Skywalker as the Arthurian king in hiding, the Merlin like mentor, the damsel in distress, the rogue sidekick, and a thoroughly evil villain.
Han Solo– The loveable rogue or rather a rascal who will do the right thing in a pinch. Harrison Ford created a new type of action character. He wasn't as worn and hard-boiled as Charles Bronson or James Coburn of fifteen years before. He had the late 70s disco era hair when lengths were again receding. You do find Han Solo type characters in the pages of science fiction. C. L. Moore's "Northwest Smith" and Leigh Brackett's various hard-boiled characters have been mentioned as possible influences. Pick up any issue of Planet Stories and you will see the type. No one ever mentions Zenith Rand, Planet Vigilante from Mystery Adventures Magazine.
Since Star Wars was made in the 1970s, it has a denim and leather look to it instead of the metallic glitter costumes that predominated in the old serials. It also might be the first case that I can think of melding of the western genre with space opera in appearance. I don't remember the low slung blaster pistols in science fiction shows or film before this.
I saw the movie three times that summer. I also bought the novelization because I wanted more. I could not wait until the next movie. Little did I know the time span between movies.
The following year, my brother and I watched Battlestar Galactica every Sunday night. The Star Wars influence was all over it. The Cylon Centurions looked like stiffer Imperial Storm Troopers. The colonial Vipers looked liked it came off the same production lines as the X-wing fighters. The colonial warriors wore buff colored uniforms that looked liked Han Solo's outfit given a military do over. The warriors also wore their good sized blasters in low slung holsters. The show had its cheesy moments but there was heroism and an evil enemy. Starbuck is heavily modeled on Han Solo. I have read that Glen Larson came up with the idea of Battlestar Galactica ten years earlier. Had the show been made around 1972, it would have looked very different.
Flash Gordon was brought back in Fall 1979 as a Saturday morning cartoon. I watched that also. It looked pretty darn good. The robot minions of Ming the Merciless again owed their look to Imperial Storm Troopers.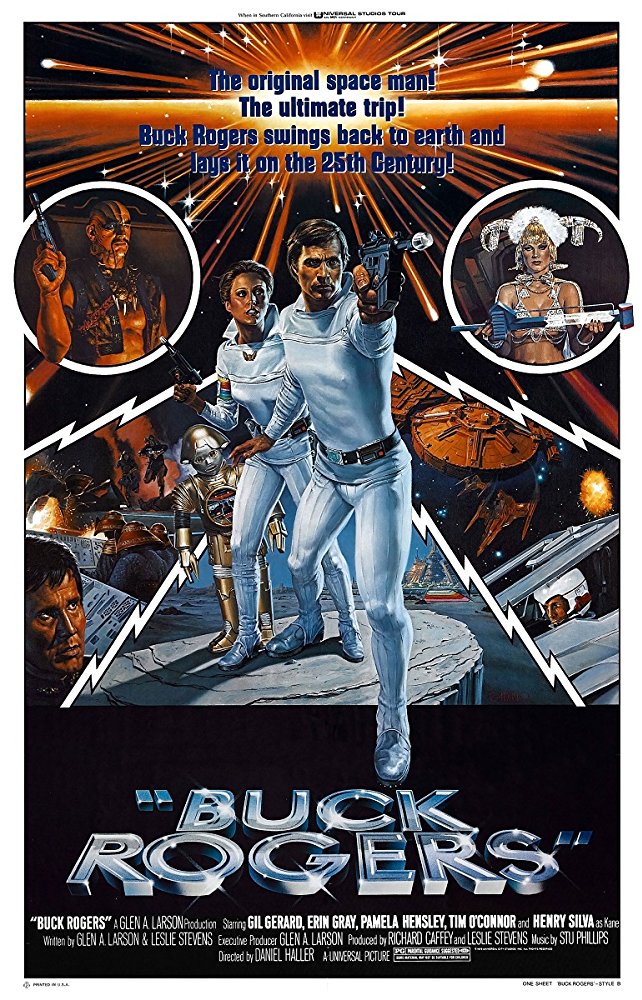 NBC also brought back Buck Rogers in the 25th Century as a T.V. series. Gone was the future race war of the original story with guerrilla warfare against an oriental conqueror. This was disco era space opera with the feathered hair, spandex outfits, and heavy bass beat music in the party scenes. Again, the starfighter has a pedigree from Star Wars. There was also the obligatory cute robot with Twiggy (voiced by Mel Blanc).
For some reason, I missed Star Crash at the time. I did catch Battle Beyond the Stars on T.V. either in 1981 or 1982. Battle Beyond the Stars came out in 1980 and I missed it. I have a soft spot for the movie with Robert Vaugn and George Peppard (as Space Cowboy). Roger Corman got a lot out of this low budget movie that reused the plot from The Seven Samurai. It is a glorious piece of trash.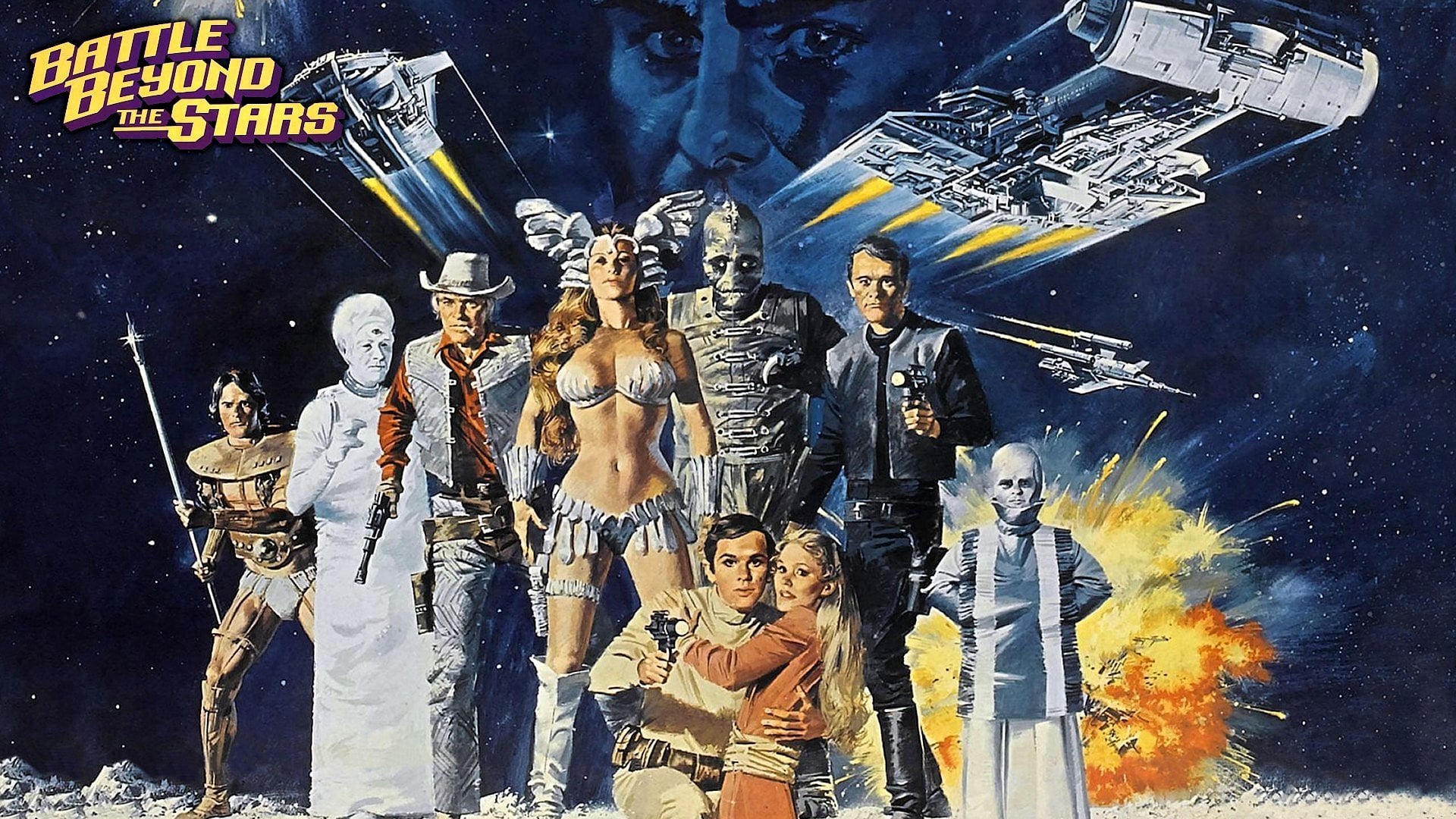 The whole Star Wars imitation era seemed to come to an end interestingly about the time that The Empire Strikes Back. I had already moved on having discovered J. R. R. Tolkien and Robert E. Howard..
Was there a Star Wars boom for space opera paperbacks? I just don't remember there being one. Michael Whelan was producing very cool covers but I don't remember seeing lots of space armadas on covers. I do remember in 1979, there seemed to be lots of barbarians. That brings me to the last and one of the most strange of Star Wars shows.
Thundarr the Barbarian was obviously the result of a brain storm session where some producer wanted to cross Conan the Barbarian with Star Wars. I was just talking to someone a couple weeks ago about the show and how he had to watch it every week. Thundarr came out in 1980. Two years before the Conan the Barbarian movie. The Conan comic books were popular at the time. You had a barbarian with a light saber type weapon (a sun sword), a wookie like side kick (Ookla the Mok), and a princess sidekick. Episode titles titles are very pulp sounding such as "Raiders of the Abyss," "Stalker from the Stars," "Den of the Sleeping Demon." Roy Thomas, fresh from leaving Marvel Comics, wrote eight of the episodes.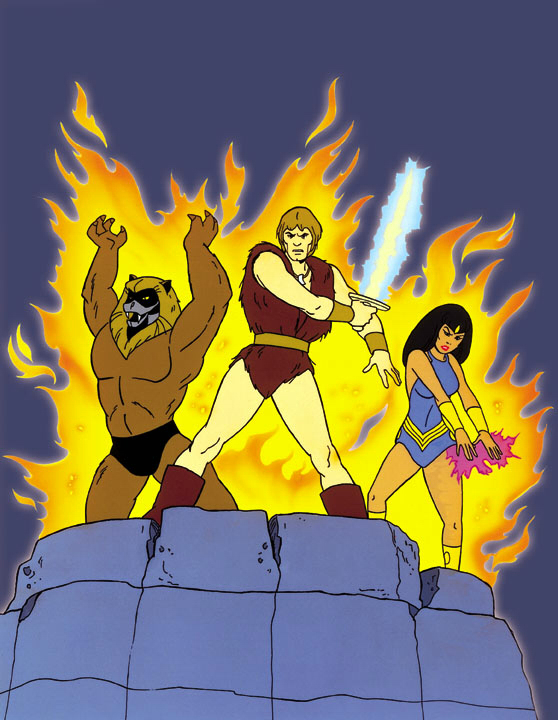 There was a live action Flash Gordon that came out at the end of 1980. It was pretty bad and barely remembered today.
As I have written before, 1980 was a barrier where much about old science fiction did not make it across. Even Star Wars was different in 1980. I had almost lost interest by 1983 with the third movie. Let us not forget, for a period of 1977-1980, there was a renaissance of space opera in the cinema.