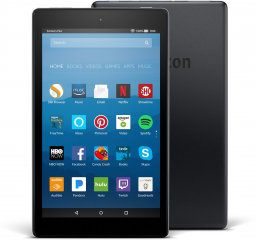 So I bought a Kindle Fire, and here's my verdict: The Kindle Fire is a heap of crap. It's cheap, it's shoddy, and it's slow. It does a lot of the same things an Apple iPad does, but worse. It's meant for people who either don't know they bought a heap of crap, or don't care.
The hardware is a heap of crap. The plastic is obviously cheap, as is the screen. The "fit and finish" is serviceable, but not impressive. The case is noticeably loose fitting.
The processor is a heap of crap. The User Interface writes checks the CPU can't cash—promising functionality the device itself cannot provide. Live search for books already on the device, as an example, is a bad joke. Even with WiFi turned off (so it isn't trying to pull info from the web), every single letter typed into the search induces lag. Type… wait… result. Type… wait… result.
Since the processor is a gimped design that'd have trouble rivaling the raw power of a Speak and Spell from 1978, this means the lag isn't so much "noticeable" as "rage inducing". If Amazon Kindle were a person, I might well have hired a hitman to kill his dog and steal his car, just to make my displeasure apparent. You might think I'd be worried about his inevitable vicious and bloody revenge, but take it from me, when it comes to speed and accuracy, Mr. A. Kindle is less "John Wick" and more "John Candy".
A slow processor means a slow UI, which is DEATH on usability. This slowness pervades every corner of the tablet.
Speaking of the UI, it's a heap of crap. Preferences, as one example, lie scattered over the place, some in the prefs app (often in bizarre and unpredictable locations), some in random pull-down menus, and some even on the Amazon web site itself. There's no organization, no real effort at implementing discoverability, and the help system is basically just the user manual, with no useful search functionality. (Apple's iOS, in contrast, will actually take you to where the preference is located, rather than just throwing up its hands and saying "Hell if I know, here's 1000 pages of badly written User Manual to leaf through.") The Kindle Fire's UI is badly designed throughout, and (as previously mentioned), the slow processor makes it painful to use.
Autocorrect is mostly a heap of crap. Unlike Apple's default keyboard, Kindle autocorrect won't learn: it makes the same replacements every single time, time after time, instead of altering them based on your inputs.
The Kindle keyboard doesn't even PRETEND to learn. I'd like it if, after the third time in a row I corrected some autocorrect misstep, it'd JUST STOP FIXING MY WORDS TO SOMETHING WRONG. This is an autocorrect that spellchecks words IN A SEARCH FIELD and turned "against" into "again st" and "cyberpunk" into "cyber security". YES THANK YOU VERY MUCH FOR SPELL CORRECTING AWAY THE GENRE OF THE BOOKS I WAS LOOKING TO BUY YOU INCOMPETENT JERKS. IT'S NOT LIKE THE KINDLE SOLELY EXISTS TO SELL ME STUFF.
Speaking of which, the ads are a heap of crap. They're scattered EVERYWHERE. The crappy UI is crappy not just because of the slow-ass processor, but also because it's designed primarily to shove advertisements for stuff in your face. Even the lock screen is one giant ad. You can sorta turn some of these off, one by one, each preference being located in a separate, unpredictable location, but even if you do, they still push ads on the lock screen unless you PAY THEM A RANSOM OF SEVENTEEN DOLLARS, above and beyond the cost of the device.
And oh, by the way, if you pay them the ransom to banish ads from your lock screen? Ads still show up. They're smaller, and less obtrusive, but I PAID SEVENTEEN BUCKS TO BANISH ADS AND THEY STILL SHOVE THEM IN MY FACE.
The few apps I've installed have been half good, half a heap of crap. Facebook and Twitter are both pain inducing pieces of garbage, worse even than their iOS counterparts, which I didn't think was possible. Dropbox works well, pretty much the only thing on the device that does, apart from the Kindle book app itself and a third-party comic reader app I bought.
Except that, at one point I needed to delete and reinstall the third-party comic reading app, and its icon disappeared from the home screen, where it is supposed to be, and no combination of rebooting and reinstalling has been able to convince the Kindle OS to add it back. Even when I click on the installed app, buried in a list of purchases, the Kindle asks if I want to REMOVE its icon from the home screen, A PLACE WHERE IT CANNOT BE SEEN.
Frustration. Rage. Hit man.
Of course, the reason why I had to delete the app is because the syncing function (to install outside files, like books and music) is a heap of crap. There are two apps which allow for this to happen, theoretically speaking. The "Transfer to Kindle" app requires a login to use, but it doesn't support Amazon's own 2-factor authorization, so using it requires turning off the one thing keeping your Amazon account from being hijacked by Nigerian scammers and used to buy 100,000 bottles of raw water from Oregon to ship to lovely Abuja, all on your dime.
No.
The second sync app, "Android File Transfer", won't work if the device is locked, SOMETHING NOBODY TELLS YOU. Not the Kindle Fire Help system, not the Amazon website, not helpful websites I googled looking for a solution, and definitely not the app itself. (The iPhone and iPad will and do sync when locked, so assuming the Fire does is eminently reasonable.)
Assuming you accidentally stumble upon the solution (as I did), copying .mobi files across to the Kindle Fire is straightforward, until they refuse to show up in your book reading app. They're on the device, and they can even be accessed (via an awkward series of steps) in a separate app wholly unrelated to reading books, but other than that… nothing.
After lengthy googling, I finally found the answer (which I now share with you, so you can help some other poor sap who needs it). It seems that .mobi files have an obscure field called [PDOC], meaning "personal document", which prevents them from being displayed in the Kindle book app. If you use Calibre, the open source ebook manager, you can covert all your .mobi files WITH this field to .mobi files WITHOUT this field, then sideload them, then finally read the books you presumptuously bought off some website other than Amazon.
I had to convert HUNDREDS of ebooks to eliminate six characters that kept me from reading any of them. Literally. Hundreds.
Speaking of hundreds of ebooks, Kindle Unlimited is a heap of crap. At least on the device itself, it's very difficult to find the sorts of books you want to read, it now costs $10 per month, even if you own a Kindle, and the genre categories are useless.
Most "Pulp" novels in KU bear no discernible relation to Pulp at all, at least in the "generally consonant with actual classic Pulp stories" sense. Of the top 20 stories in KU Steampunk, only two were actually Steampunk. And, no matter what genre they claim, many Fantasy & Science Fiction novels are actually Romance instead of (for example) Urban Fantasy or Vampire Horror. In one memorable instance, a Top 20 genre book was outright "Erotica", complete with racy cover featuring half-nude models, that didn't have anything to do with the genre it had been placed in (even nominally). KU books are frequently mislabeled, either because the writer doesn't give a damn or because they actually don't know what the Pulp, Steampunk, or Urban Fantasy genres are.
Some other minor niggles: after years of luxuriating with a fingerprint repelling oleophobic screen, I have to get used to a device that needs to be cleaned on the reg. And, even if clean, the screen is absolutely NOT non-glare, and could actually be used as a signal lamp to send Morse Code messages to US Navy vessels as far as ten nautical miles offshore. And, not for nothing, but there are enough small differences in key placement between the Kindle keyboard and the iOS one that it makes it hard to switch back and forth (but now I'm just kvetching).
Now, before I go off to finally hire that hit man to fire a .50 bullet into my Kindle Fire's innards, some good points. The Kindle Fire is cheap, less than $100, which is inexpensive enough so that none of the above will matter to many people. Even if lost / destroyed, that's a low enough price point that most people can easily replace them. (By way of comparison, the closest comparable iPad—the iPad Mini 4—costs four times as much.)
It's also very easy to shop on both Amazon and Comixology (as it damn well should be, considering that's the entire POINT of the device). I haven't had any problems with WiFi connectivity. The screen is bright and clear, and doesn't seem to have a weird color balance: blacks are black, whites white, and the rest of the colors match what they should be.
Also, so long as you don't have the brightness of the screen turned up so far you're in danger of burning holes in your retinas, the Fire has a nice battery life. BL percentages drop slowly, even under consistent use, and the onscreen gauge seems to accurately match the actual charge in the battery (wonder of wonders).
Despite all the bad points, which are aggravatingly bad (Frustration. Rage. Hit man.), and setting aside all of the good points, I'd recommend any indie writer who can afford one to purchase a Fire and a KU subscription. If you're smart, you're going to be selling to Kindle users in general, and KU in specific, so it's wise to learn how both operate, so you can best take advantage of the opportunities available on the platform.
That's why the Kindle Fire might be worth it to you, even if it is a big old heap of crap.
---
Jasyn Jones, better known as Daddy Warpig, is a host on the Geek Gab podcast, a regular on the Superversive SF livestreams, and blogs at Daddy Warpig's House of Geekery. Check him out on Twitter.