At first glance, it seems strange that Arthur Henry Ward, writing under the pseudonym Sax Rohmer, doesn't garner more attention on this blog.  After all, he wrote the enormously entertaining, successful, and influential The Insidious Dr.Fu-Manchu.
But upon further reflection, it makes sense.  The book in question is not fantasy or science fiction.  And as we will see, it was likely Rohmer's only significant work.  His fantasy tales aren't better known for a reason.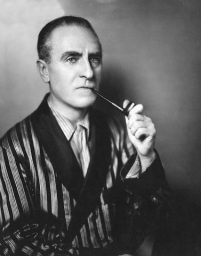 Rohmer has much in common with many other writers of weird fiction.  Born to a working-class family in Birmingham, England, in 1883, he worked a series of odd jobs before becoming a writer, much like Edgar Rice Burroughs.  Along with fellow writer Algernon Blackwood, he was a member of the occult organization The Golden Dawn.  This is reflected in his work; Rohmer's descriptions often have a dream-like and sumptuous quality to them, as Blackwood's The Willows does. And Rohmer was eternally fascinated with the exotic, whether Oriental or Egyptian.
Rohmer attained success at the same time Burroughs did, with the serialization of The Insidious Dr.Fu-Manchu from 1912 to 1913.  The subsequent publication was a smash success and adapted into films dozens of times.
And it really is a damn good book!  Reading it at the age of 14, I had never come across a novel this purely exciting, with its full-blooded adventure and breakneck pacing surpassing many of my favorite action films.  In the first few pages, there is a bizarre murder and an introduction to Denis Nayland Smith, a brilliant, tough, thoroughly English detective exemplifying the very best of that race.  He is assisted by faithful sidekick Dr. Petrie, who hears Smith's shocking story with stoicism and vows to help, no matter the risks.
And this is where we are first told about the title villain, Dr. Fu-Manchu, a diabolical, thoroughly evil genius.  His schemes are always shadowy, but assuming they involve anything less than world domination would be a mistake and an insult.
The comparisons to Holmes and Dr. Watson are obvious, but Smith and Dr. Petrie stand on their own.  And Dr. Fu-Manchu, much as I love Conan Doyle's books, is superior to Professor Moriarty.  There is another wrinkle that the Holmes mysteries lacked; a seductive, beautiful woman.  A slave of Dr. Fu-Manchu, Kâramanèh is an exotic Egyptian who falls in love with Dr. Petrie, aiding our duo in their desperate struggle.  She is one of the sexier pulp heroines I've come across, who, as a double agent, remains an enigma throughout the novel.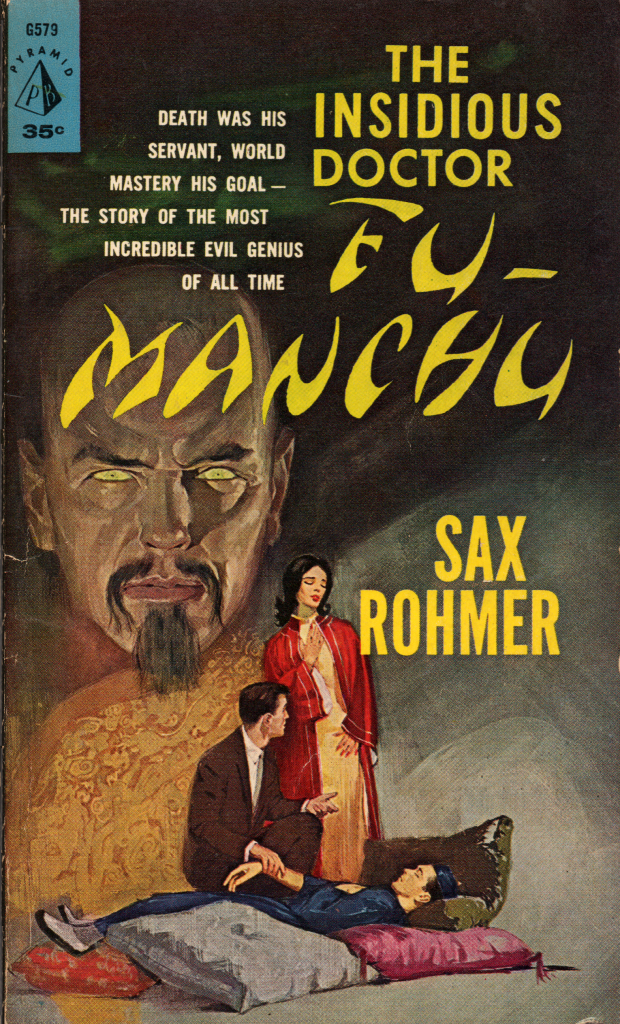 The book follows an episodic format, with each chapter featuring a new outrage Smith and Dr. Petrie must investigate. All leading to the Chinese master villain himself.  One never knows where he will strike next!  Or what ingenuous method of death he will employ, whether rare poisons, ninjas that blend into the night, and other oddities that make the crime undecipherable for the British authorities.
It's a consistently thrilling, action-packed novel that never slows down, and manages to come up with a fresh, unique mystery each chapter. Not to mention weave a larger narrative through the episodes themselves, no mean feat, culminating in a suitably grand, picturesque finale.  It's one of the best pulp works I've read, and one I would recommend everyone here try.
Critics will contend that it's "racist" towards the Chinese.  I'm sure Castalia House readers will consider that a point in the book's favor, as all the very best novels and movies are accused of an egregious "-ism" by modern leftists.
As a teen, I even thought it was complementary towards the Chinese to portray them as so brilliant and powerful. I wanted to be an evil genius, too!
But it's important to note that Dr. Fu-Manchu is not working solely for himself, but aiding the power and influence of his native land. This was called alarmist, with Fu-Manchu an example of Yellow Peril.
Yet, it is curious to note that when it was published in 1913, the British Empire was one of the most powerful nations on Earth, while China was a populous but weak country dominated by Japan.  104 years later, Britain is a second-rate power and China is arguably the most powerful nation on Earth, influencing countries on every major continent, including Africa.
Sadly, The Insidious Dr.Fu-Manchu was easily Rohmer's peak.  I've read the sequel, The Return of Dr.Fu-Manchu, only to be disappointed.  It's a retread of the original, following the same format, only the mysteries are duller, the excitement lacking, and even Fu-Manchu himself is a more ordinary, occasionally foolish fellow.  Every once in a while, it catches glimmers of the original's phenomenal blend of mystery and adventure, but no more.  This installment ends with a whimper instead of a bang.
Rohmer wrote one more Fu-Manchu work and wished to be done with it.  Sadly, financial problems led him to return to the series 14 years later, with 1931's Daughter of Dr.Fu-Manchu.  I can't imagine they were any good.  By the last, 13th book, Emperor Fu-Manchu, affairs had become so ridiculous that Smith and Dr. Petrie were allies with the wicked doctor eternally trying to torture and kill them.
I also tried reading another Rohmer pulp work, the fantasy Brood of the Witch Queen. I might well review it on here, under the title "How NOT to Write Pulp".  Of all the pulp novels I've come across, ranging from terrible to excellent, this is the worst.  Every single blunder and weakness of the genre is present in this book.  It is sloppy and lazy in every regard, unable to even maintain a coherent narrative between its episodic chapters, with later installments contradicting earlier ones.
It was difficult for me to believe that the author of one of the best pulp works, The Insidious Dr.Fu-Manchu, could have written one of its worst just five years later!
Nevertheless, while Rohmer may have been a one-hit wonder, that is far more than most authors ever achieve. Better to have one great, memorable work than dozens of middling ones.  The great science fiction writer and pulp enthusiast Philip José Farmer included Nayland Smith among Tarzan, Doc Savage, Professor Challenger, The Shadow, and others in his Wold Newton family.  The iconic villain has become an established symbol of popular culture.  And The Insidious Dr.Fu-Manchu retains the power to thrill and delight to this day.