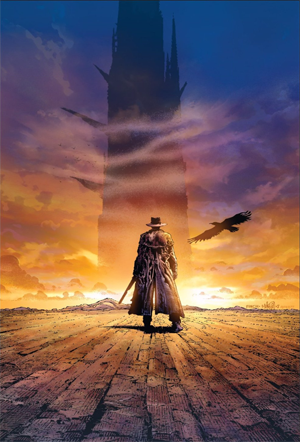 I throw out groundbreaking new concepts like every day, because that's the kind of supergenius your humble host is. For today's bite, let me introduce you to a little concept I came up with last night, called:
"The Total Crap Realization Time Lapse"
When you were 5, you liked a lot of crap. Crap TV, crap books, crap music. But you didn't realize it, until you were older, say 10.
When you were 10, you liked different crap, but it was still almost all crap. You just didn't know it, until you were maybe 20 or so.
And so on and so forth. The Total Crap Realization Time Lapse is "the period of time between when you start passionately loving something that's total crap, and when you finally realize it's total crap." AND IT NEVER ENDS.
That stuff you love when you're 40? By the time you turn 60, you'll realize just what a pile of festering garbage much of it was, and look back on it with embarrassment.
Today's victim of the Total Crap Realization Time Lapse is Stephen King's "The Dark Tower" series, specifically the more than ten year's worth of Marvel Comics miniseries featuring Roland, the last Gunslinger, and his quest for the Dark Tower. They're total crap, and here's why…
The Dark Tower: The Gunslinger Born—The seven issues which start the comic saga are the apex of the saga. All of the faults which eventually doom the series to mediocrity are present, but in a nascent form which doesn't ruin the story. This arc is the tragic story of star crossed lovers, which is okay until you realize Roland is FOURTEEN and Susan's SIXTEEN. Then it's squicky.
Still, the story is far more atmospheric than King's original stories, not because it's in chronological order, but because the series' idiosyncratic almost-Western dialect—"Thankee, sai.", "I'll set my watch and warrant on it.", "Do ye kennit?"—is set in place from the beginning. It adds the perfect touch of exoticism that second world fantasies need. And don't doubt but that these comics are, sort of, fantasies. That, and science fiction, and horror. Weird Tales fiction, partaking of the Pulps' anarchic approach to genre, without partaking of the spirit of the Pulps.
Unfortunately, the artwork is spectacular (truly spectacular)… but limited. Just foreground in mist. No floor, no background, just colored mist. Old 3-D video games used to hide the limitations of hardware by drawing fog, so too does Jae Lee hide the limitations of his artwork. You begin to long for "badly drawn" comics which have, I don't know, ACTUAL FLOORS AND WALLS.
The Fall of Gilead—This series could be a great story, were it not constantly interrupted with a flat, cliched, "women wants to break into a man's profession" subplot we've seen a million times before. The series wastes A LOT OF TIME with this folderol, and it never goes anywhere. The character isn't interesting or distinctive, other than being a woman, nor does she play any significant role in events, and she could easily have been replaced by any other character: she does one thing in two whole series, and then (spoiler) dies a stupid death. Pointless digression.
Last, the story is disappointing. All of the deliberate actions discussed in the first novel (The Dark Tower: The Gunslinger), all the deaths among Roland's band of gunslingers that hinted at a complicated tale of treachery and vengeance are revealed to be nothing more than accidents that happened over the course of a day. It cheats the audience of the original promise of Roland's past.
The Man in Black—The original novels are post-Christian, brutal, and utterly pagan. They're quite nasty in so many ways. The comics don't shy away from this and, indeed, amplify it.
This sequence begins with a tedious "Good is just as Evil as Evil is" speech. It's ugly and consummately nihilistic, and it made me confront the fact that, for all the promise the first "Dark Tower" book held, it was a work of nihlism. Then again, pretty much all of early King was. Rage, The Long Walk, Roadwork, The Running Man, the short stories comprising The Gunslinger: all drink deeply at the well of despair. Early King couldn't even pretend to hope for the sake of a story. Who he is always seeps through. (Though, this is true of nearly all storytelling and nearly all writers.)
This story arc also establishes one fact: Roland straight-up murdered Jake. He had a choice, and let him die. They don't sugarcoat it, and it's even more brutal and ugly than in the original book.
All of this nihilism, despair, and pagan brutality are what made me realize that what I loved as a teen—and I did love the Gunslinger books, and eagerly awaited each new volume, though the time gap between each was almost Martin-esque—was crap. They're stories with much promise, that hint at heroism and courage and a quest to save not just one world, but all worlds from the predations of a demon king who will eat all of reality, but ultimately that promise is unfulfilled.
In the end, there's no actual heroism, just its seeming. Now that I know that, I cannot regard them the way I once did. The time has lapsed, and I now realize the books were total crap.
---
Jasyn Jones, better known as Daddy Warpig, is a host on the Geek Gab podcast, a regular on the Superversive SF livestreams, and blogs at Daddy Warpig's House of Geekery. Check him out on Twitter.