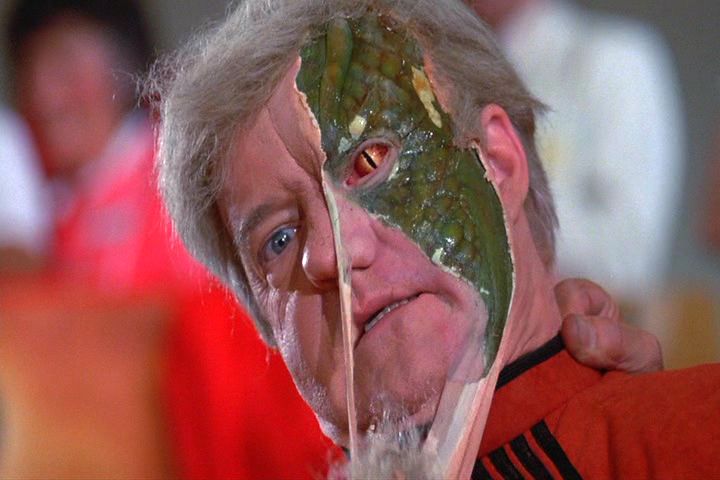 There's something about Edgar Rice Burroughs that just causes some peoples' heads to explode. They short circuit. Their monocle pops off. They let slip the mask. Their skin peels off to reveal the scaly lizard flesh beneath.
It's as bizarre as it is reliable. Here's only the latest example:
The idea that pulp Sci-Fi was mainstream popular before the 1960's is completely false. Sci-Fi was considered ham-fisted schlock for prepubescent boys in those days. Main stream literature during the time your talking about was John Steinbeck and F Scott Fitzgerald. People liked realism back in them days, and they considered Sci-Fi to be Fantasy drivel for children.

You cited Edger Rice Burroughs Tarzan books as an example of main stream literature, completely ignoring the fact that his stories where printed mostly in pulp magazines.They where hardly best selling hardbacks. You also cite Conan as "mainstream popular" which is not entirely true considering that Robert E Howard only ever saw his stories printed in pulp. And in fact his stories only got printed in paper back decades after his death as an obscure niche favorite. You also mention Batman which doesn't really fit into an argument for Sci-Fi Books. I mean, If your going to use Bat Man as an example of a golden age gone by, then I could easily counter that by saying Spider Man and the X Men are examples of main stream popular Sci-Fi post "golden age". Both of which were invented in the 1960's and reached peak popularity in the 1980's and 1990's. Before there respective movies came out.

Also, if your going to mention classic Sci-Fi Literature as examples of old books that are still embedded in Main Stream popular culture, you could have at least said War of the Worlds, The Time Machine and 1984. I also Noted that there was an underlining sub text of bias towards left wing politics in your article. Now, I don't subscribe to any left wing Ideologies, but if your going to try and slip your politics into your article, try not to be so transparent about it. You completely lost me when you started talking about manly men being manly. There's lot's of stuff that is of the literary caliber of Tarzan and Conan for "masculine men" to dig there teeth into in this day and age. Just read Tom Clancy or the like. Or maybe Bret Easton Ellis would be your cup of tea?

Your argument is completely straw man. Because the fact of the matter is, Si-Fi literature has never been "mainstream" in the truest sense of the word. Other than a few examples outside of literature such as Star Wars, E.T and the Twilight Zone. It's not like the 20th century ever had long periods of success with huge Sci-Fi films and books like they did with Westerns or Action movies. I don't recall a series of successful Sci-Fi books as popular as the likes of Stephen King. In fact, If you want the type of "manly" heroes that your so enamored with, look no further than the slew of Marvel Movies that are being produced now. And you still have the comics and Tom Clancy. I'm Struggling to see your point.
Fortunately Brian Renninger was on duty when this guy showed up. Here's his response:
Well, first of all, you are apples and oranging it. If you are going to discuss "mainstream" in the context of the discussion presented in the article you'll need to use the same definition used in the article. You start by redefining "mainstream" as "literary" whereas "mainstream" as used (the one time) in the article means read by the average person of the day. To say pulp was mainstream is to note that in aggregate pulp fiction was read by the average person in vastly greater amounts than "literary" fiction. You deride Burroughs due to being published in pulp magazines which is entirely beside the point. Besides, in that you are also factually incorrect; Tarzan of the Apes was published in Hardcover June 6, 1914 and the Burroughs books continued on from there. Tarzan did in fact result in many a Hollywood blockbuster (radio, serials, movies, and ultimately television) which you claim not to have existed. Though I don't have the numbers I bet the hours devoted solely to Tarzan on non-print media outnumber all the hours of non-print media inspired by H.G. Wells, Jules Verne, Fitzgerald, Steinbeck, Ellis, Clancy, and even King combined. And, as to other SF, you are right, there were not long periods of SF film runs with say the popularity of the western back in the day. There are a number of reasons for this. Mostly because shooting a western is vastly cheaper than shooting SF. Plus, the necessary special effects just weren't available in the early years. And, yet, even so, Gene Autry, who could have kept making pure westerns chose to make The Phantom Empire serial — that wasn't because SF was unpopular.

As to Howard's popularity. Well, he was no Burroughs but, he was pretty much the most popular writer for Weird Tales, and would also have had a novel published in Hardback if the publisher hadn't gone under in early 1936. If Howard hadn't blown his brains out a few months later, who knows how popular he might have gotten back then.

And, finally, King. You use King to say you "don't recall a series of successful Sci-Fi books as popular as the likes of Stephen King." This is laughable in it's face. Firstly, you have to draw upon one of the most popular writers of all time in order to look down from lofty heights upon lowly SF. SF is doing pretty good if King is the big gun you need to draw to try to prove your point. And, in any case Rowling has given him a pretty good run for his money. Though I suppose if you are comparing popularity in the 30s to today, well, that's apples and oranges again as populations and distribution was much different. But, most importantly, you forget that a huge portion (and arguably the majority) of King's writing is fantastic. King writes fantasy, SF, weird fiction, and essentially all the genres of the pulps from back in the day. And, King became popular in the pulp format of his era — the paperback novel. King is a pulp writer and you are right he is as mainstream as it gets.

You want to pursue the tautology of defining mainstream as not pulp and then deriding pulp as not mainstream. Well, you have fun with that but, don't expect to convince anyone.