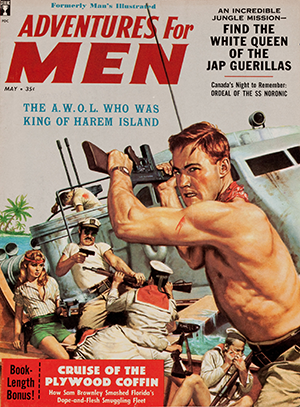 We know Sci-Fi is in the ICU, stabbed through the kidneys with a poisoned blade, barely clinging to life. Thanks to the brilliant work of yours truly, Doctor Warpig, we even know who shivved it with a shank. But how do we save it?
Let the Doctor show you the way.
Lets begin with one simple truth: if people aren't buying what you're selling, it's YOUR fault. You're not making what they want. People aren't buying SF, because SF isn't selling what they want to read, and hasn't for generations.
This is a major problem, because people's tastes have changed. And once changed, it's hard to change them back.
Audience-repelling short stories repelled them (oddly enough), so they stopped reading, and now nearly all readers are unused to the format. To revive the short story market, people'd have to be induced to read short stories again, to become used to them. It can be done—Cirsova did it for me—but it's not easy.
This goes for the rest of Sci-Fi as well. The audience was driven off, so they stopped reading SF—and many simply stopped reading altogether. This is actually hopeful—it means there's an underserved market out there, a large, potentially huge group of people who could become regular readers, if they were induced to read again. Dan Brown, JK Rowling, and Stephanie Meyers show this is possible.
Romance, I assert, primarily appeals to women, Science Fiction to men. Romance sells in absolute buckets, SF not so much. Modern men, we are told, also read less than women, in historically low numbers.
This means men are an underserved market in publishing in general, and SF in particular. Men are currently not readers, but could be—if there were material that appealed to them.
What appeals to men? Adventure, heroics, and sex appeal: sultry villainesses, scantily clad wenches, and strong-but-feminine leading ladies the hero can woo and win.
Men—mainstream men, aka "normies"— love honorable heroes and vile villains, they love battles between good and evil, they love exploration and danger. They love strong, admirable men risking life and limb to do brave deeds. These are masculine ideals, and men love fiction that evinces them. Not subverts them, not mocks them, but displays them and embodies them, boldly and unapologetically.
Men love big damn heroes. Good men want to be big damn heroes, and they want stories that exalt big damn heroes.
Very little of this sort of fiction is made nowadays, but it used to be ubiquitous, its ubiquity corresponding to the time in which Fantasy & Science Fiction was the most popular it's ever been. Banishing heroism broke the back of the genre, and began its fall to its present low state.
Normies, specifically normie men, are a vast and untapped market. Give them stories worth reading, stories that remind them what men can and should be, and reminds them that they are men, and they will love these stories. (Many women will, too. Women love masculine men, and love stories of masculine men.)
This world needs masculine men, now more than ever. It needs honorable and upright men of virtue and integrity. It needs men who are willing to confront evil, unafraid to call it evil, and willing to fight—and if needs be die—to defeat evil. This world needs stories that evoke and honor those ideals—compelling stories, entertaining stories, moving stories, not preachy lectures, but STORIES—because it is in the imagination of men that their character is first birthed.
Fill men's mind with tales that venerate cowardice, and you breed cowards. Fill men's mind with tales that exalt promiscuity, and you breed selfish and iniquitous males. Fill men's minds with tales that esteem geekhood, and you breed geeks.
But fill men's mind with tales of virtue and manliness, and you breed MEN. Strong, assertive, confident, competent, candid, honorable—MEN.
The great opportunity is this: thrilling tales of heroics and adventure are what Fantasy & Science Fiction is MEANT for. It is F&SF's metier, that thing which—above all else—it does best.
Fantasy & Science Fiction can be the venue for a variety of stories: war stories, mysteries, romances. But what this genre is best at are tales of heroics, tales of great evil and great good, tales of adventure and bravery, and tales of big damn heroes.
You want to save Science Fiction? You want to propel it to new heights? Look to simple tales, well told, tales of heroes and villains, tales of beauty and awe, tales where the big damn hero fights the evil villain, then persists and overcomes, and wins the gorgeous dame.
Do this, and SF will be taken off life support. SF will thrive again. So says Doctor Warpig.
Now go forth, write amazing stuff, and conquer. The power is in your hands.
NOTE—This is the third of a series: Part One. Part Two.
---
Jasyn Jones, better known as Daddy Warpig, is a host on the Geek Gab podcast, a regular on the Superversive SF livestreams, and blogs at Daddy Warpig's House of Geekery. Check him out on Twitter.