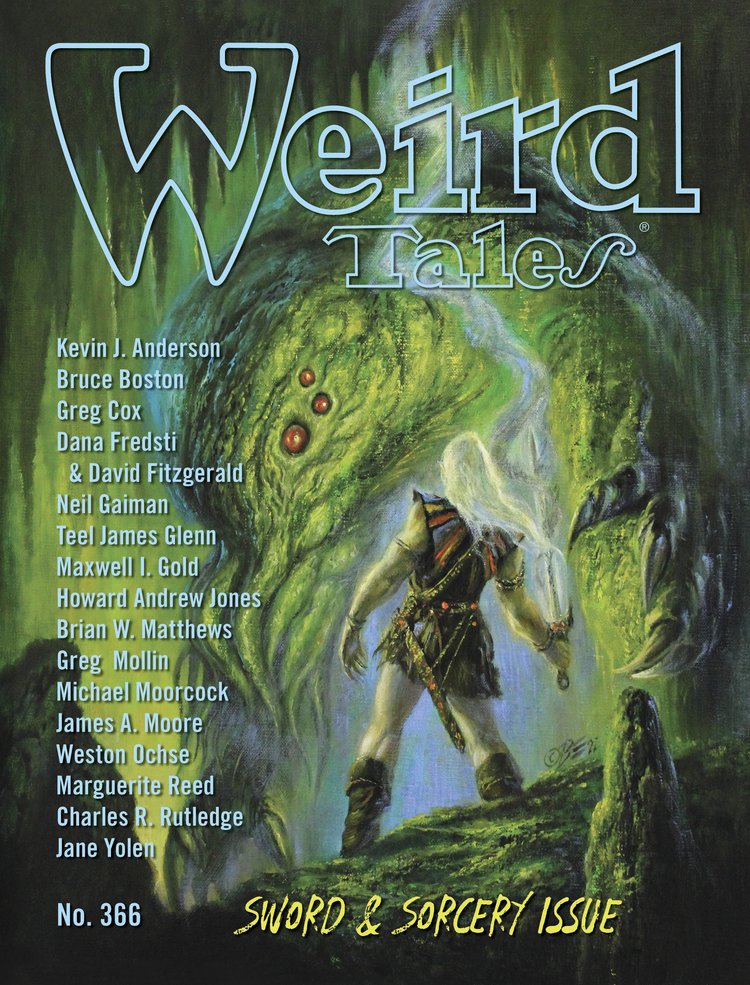 I wrote an entry "Whither Weird Tales?" back in November 2015. At the time it had been a year and a half since the last issue of the magazine had appeared. The magazine was reanimated in 2019 with Jonathan Maberry as editor. Five issues of Weird Tales have been published since then.
Issue #366 came out in November 2022. It is a sword & sorcery issue. Format is 8.5 x 11 inches, 128 pages, slick paper, perfect bound, color cover by Bob Eggleton, color back cover by Arther H. Anlow, and color interior illustrations.
Contents:
Fiction
Cold Ice, Red Blood Kevin J. Anderson
The Road to Kirinmoir Michael Moorcock
Guardian of the Sapphire Sword Greg Cox
Maid of Steel Dana Fredsti and David Fitzgerald
Temm the Riven Brian W. Matthews
Three Winters James A. Moore
Hunting the Winter Witch Greg Mollin
Misbegotten Marguerite Reed
The Warrior's Way Howard Andrew Jones
Poetry & Flash
A Word Before the Ice Wars Bruce Boston
The Girl Speaks to the Mage Jane Yolen
Bard Teel James Glenn
The Gates of Katharion Maxwell I. Gold
Non Fiction
Sword & Sorcery: Weird Tales and Beyond Charles Rutledge
An Interview with Michael Moorcock Weston Ochse
On Michael Moorcock Neil Gaiman
Jonathan Maberry discusses his discovery of sword & sorcery as so many of us did buying a Conan paperback as a youth. Getting Michael Moorcock is a coup. To put it in perspective, that would be like running a new Conan story by Robert E. Howard in a magazine in 1992. I have enjoyed Michael Moorcock's fiction the past fifteen years such as "The Roaming Forest" and "Red Pearls" more than The Revenge of the Rose and The Fortress of the Pearl from 30 years ago. "The Road to Kirinmoir" is an excerpt from the novel entitled The Citadel of Forgotten Myths. The excerpt appears to the set up introducing what appears to be an important character in the novel.
I have mentioned Howard A. Jones more than once with his stories on Hanuvar in Tales of the Magician's Skull. Howard has created a fiction version of Hannibal in a fantastic world. "The Warrior's Way" is an excerpt from the forthcoming Lord of the Shattered Land.
This is a strong issue regarding the fiction contents. Greg Cox's story is from the point of view of a demon guarding a vault imprisoning a very bad goddess. Greg Mollin's story is short and punches hard. Marguerite Reed's story reminded me of Tanith Lee. James Moore's story is a tale of a prince deprived of his throne by his mother and brother and his quest to regain it. Most of the stories have a good weird element, some a strong horror element which is what makes good sword & sorcery.
I just checked the Weird Tales website and this is is sold out in print form. Amazon does have the kindle version.
I will end with this: I ordered my issue late last year. Had to wait several weeks, unfortunately the postal service machines beat up my issue with creased pages and a cracked spine. I contacted Weird Tales. The responded asking I send pictures of the damaged magazine. No problem. They replaced the issue and included a copy of issue #364 for my aggravation. That was a class move. Continue to treat your customers like this and your magazine will last and prosper.