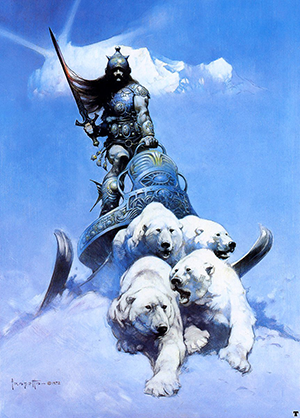 Q: What is the most important thing in storytelling?
A: The storytelling. Period. Any other answer is sheerest nonsense.
On that note…
The Silver Age is responsible for imposing a false and damaging critical frame on the Fantasy & Science Fiction genre (for it was one genre until they enforced an artificial division, splitting F&SF into Fantasy on one hand and Science Fiction on the other). Silver Agers imposed a literary framework where stories were judged not on their ability to move the audience, to entertain and inspire, but on the scientific rigor of their technology. The best stories were Hard Science, the worst Soft Science (or even, Ghu forfend, Science Fantasy).
This critical apparatus, and the wall between F and SF, imposed limitations on authors, limitations which hobbled their imaginations. Gradually the field lost the visceral vitality of the Pulps, and became increasingly cerebral and intellectual. Along the way, it lost the audience, who want to be moved and not lectured.
Elevating a critical frame where the worthiness of a story is determined primarily by the veracity of the science involved is insanity. Normal people, the mass audience who used to read SF, care more about storytelling than minute technical details.
Seventy-nine years of propaganda has obscured that fact, but it cannot erase it. The audience knows. The audience always knows what it likes and does not.
Now, I myself am noted for my ire at technical inaccuracies. Click on this link, and tell me I do not care about getting science or technology right.
https://youtu.be/XOjDjsIDdKg?t=649
I do not object to technical accuracy. I object to that being the primary criteria for judging the worth of a tale.
A story can have diamond-hard science, have an exactingly extrapolated future society, can tick all the checkmarks of what the Silver Age (or any other) considered to be good SF, and still utterly fail in the marketplace, because it didn't thrill the audience.
The ONLY virtue of a story is if it satisfies the audience. Everything else is frippery.
---
Jasyn Jones, better known as Daddy Warpig, is a host on the Geek Gab podcast, a regular on the Superversive SF livestreams, and blogs at Daddy Warpig's House of Geekery. Check him out on Twitter.