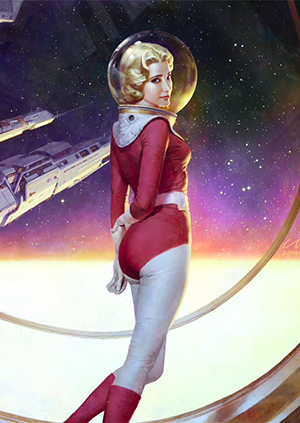 "Hard" Science Fiction DOES NOT EXIST. It's a delusion. A phantasm. A phantasmagorical illusion.
It's a lie Hard SF writers and audiences mutually agreed to, the original "consensual hallucination".
Let's start with something easy: fast interstellar travel. It's physically impossible to travel faster than the speed of light. Period. Physics is very clear on this subject. There is no known scientific principle which would allow one to violate Relativity. Traveling faster than light always involves time travel to the past, which violates causality, which the physical laws of the universe absolutely forbid.
Any SF story which involves faster-than-light starships or communication is absolute drivel, scientifically speaking. You may as well be writing about inch-high fairies summoning ghosts in Narnia—it's just as scientifically accurate.
Galactic Empires? Hokum. Boldly Going Where No Man Has Gone Before? Bunk. Hyper-jumping into a system to launch a planetary assault on a just-discovered Rebel Alliance base? Utter tosh and rubbish.
Fast interstellar travel is a scientific impossibility. Also impossible: teleportation (violates the Heisenberg Uncertainty principle), time travel (violates causality), and pretty much every other fun and interesting idea that SF writers have celebrated since the dawn of the Fantasy & Science Fiction genre. Science hates fun.
Science also hates scientific accuracy in stories. Science is an ever-evolving field and while certain things are constant—like Newton's Law of Gravity—new discoveries are upending stuff all the time. Like Newton's Law of Gravity, which proved inadequate to the task of calculating the orbit of Mercury. It took Einsteinian Relativity to let us do that.
Science changes constantly, and today's rigidly scientifically accurate Hard SF masterpiece can, in one day, be relegated to the dust bin with all the other stories who got the science wrong. It's happened.
I'm not saying scientific accuracy is a bad thing, but rather that minute and pedantic adherence to current scientific knowledge isn't necessary for a good Science Fiction story. Audiences don't want realism, and they don't want accuracy. They want a good story, well told, with a veneer of verisimilitude: a story that is believable enough to believe in, whether it's actually scientifically accurate or not.
This is so much the case, that even Hard SF cultists will gladly accept something that is scientifically impossible—like fast interstellar travel—in the interest of a good story. When it comes to great storytelling, even Hard SF hardcases wink at violations of science. All you have to do is give them a good enough excuse and they'll happily accept whatever it is you're peddling, whether it really makes scientific sense or not.
Scientific or technical accuracy should never be allowed to wreck a good tale. Stories which elevate these elements above all others may appeal to a narrow slice of the audience, but they generally repel the mainstream. Such stories should never have become the dominant or sole form of Science Fiction, and the effort to make them such coincided with the collapse in sales of SF, and its relegation to a ghetto genre, fit only for adolescents and nerdy adults.
Hard SF absolutism wrecked SF. Which is a damn shame, because Hard Science Fiction DOES NOT EXIST.
---
Jasyn Jones, better known as Daddy Warpig, is a host on the Geek Gab podcast, a regular on the Superversive SF livestreams, and blogs at Daddy Warpig's House of Geekery. Check him out on Twitter.