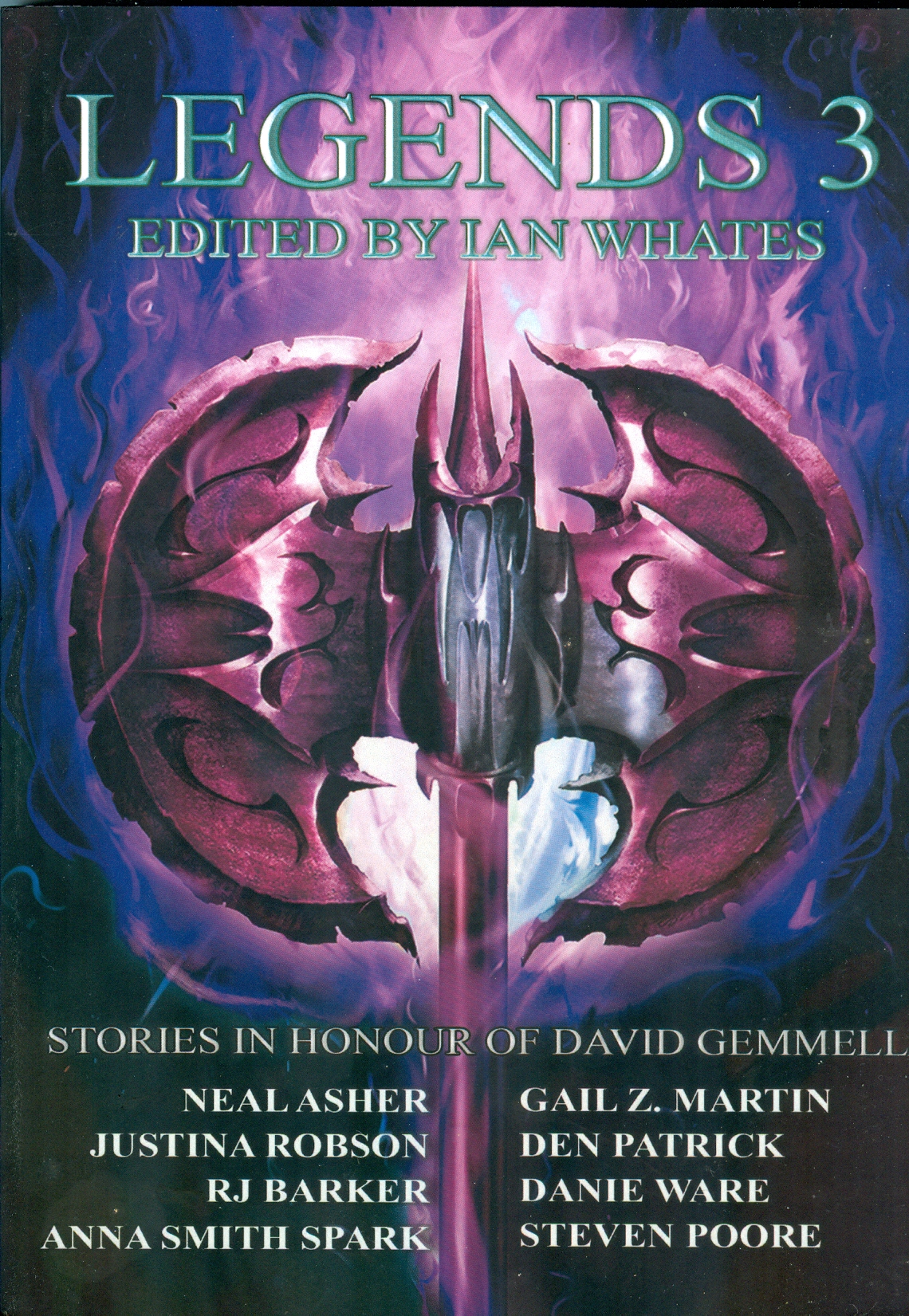 The David Gemmell Awards For Fantasy honored the best in fantasy fiction and artwork as chosen by the readers from 2009 to 2018. The awards were for traditional, heroic, epic, and high fantasy genres. There were some accompanying book anthologies of fantasy fiction: Legends (2013), Legends II (2015), and Legends 3 (2019). I just found out this summer there was a third volume. This time I could not order from Amazon. I ordered it directly from Newcon Press and sent over the Atlantic. It took me a few months before I could get to it, but I finally read it.
The cover by Dominic Harman has Druss' ax, Snaga, with a purple tinge in the background. Trade paperback format, 250 pages, fourteen stories. Stan Nichols (Orc) has a wonderful introduction "Remembering David Gemmell" wherein he recounts his relationship with David Gemmell.
The first story "Blood Debt" by Gail Z. Martin is a tale of tradesmen who battle ghouls invading their city at night. Sort of like a fantasy zombie battle.
"A God's Mercy"/ Richard Webb: A small infantry force is sent to forestall the attack by a larger force.  An aging fighter meets the goddess of death on the battlefield.
"The Berserker Captain"/Neal Asher: My favorite story in the anthology. A fifty-man remnant of 400 attempt to escape a catastrophic defeat. They are met along the way by the Red Bishop, a clergy office responsible for the defeat. Hadrim, the enemy Berserker Captain arrives alone demanding the Red Bishop, or else. This story originally appeared in the Wildside Press anthology, Strange Pleasures from 2001.
"The Price of Passage"/Keris McDonald: Peither, high priestess of Aphrodite in Troy summons the warrior Misenus. She and her family (including Aeneus) are getting out of Troy as it falls to the Greeks. There are perils along the way.
"Summoner"/Danie Ware: Kadarr is an immortal warrior having made a proverbial deal with the devil. He saves a fortress from another immortal warrior. He has to do something very bad as part of a bargain with his supernatural patron. There was a Michael Moorcock vibe to this story.
"Pelicos the Brave and the Princess of Kalakhadze"/ Steven Poore: A lighter story with humor as the roguish Pelicos is sent to retrieve Nereya the Princess for Lord Castilar. Humorous fantasy is very hit and miss for me. This one worked as it ended up being a great slam on the gamma in the socio-sexual hierarchy.
"The Timekeeper's Tarot"/Den Patrick: Ketch is a tough guy for hire in a bad city. This might appeal to fans of Fritz Leiber.
"Her Grail"/Ben North: A vignette more in the style of Lord Dunsany or Clark Ashton Smith.
"Piercing the Mist"/Shona Kinsella: Warrior woman in a royal guard tries to unravel the mystery of assassins sent by a sorcerer.
"Chosen of the Slain"/K. T. Davies: I was just rereading Christensen's The Northern Crusades before this volume. "Chosen" has a northern setting with old pagan ways against the new religion forced on a conquered population.
"The Dying Land"/ Nick Watkinson: Two Magi attempt to unravel the cause of death spreading through the land. This one got psychedelic for the climax.
"A Hero of Her People"/ Anna Smith Spark: What do you do when about to be conquered by an invincible Dark Lord? This one was very nihilistic.
"All Deaths Well Intention'd"/ R. J. Baker: This takes place in the world of "The Wounded Kingdom" novels with the character Girton at age eleven. Skullduggery and murder with professional assassins. A sort of fantasy locked room mystery.
"By Any Other Name"/Justina Robson: A famous mercenary captain happens to get killed at the outset of a siege. His executive decides to hide the fact.
Seven male and seven female authors evenly divided. Lots of female fighters and knights. The Neal Asher story stood out to me as something from a different era as it had a harder hitting quality.
Ian Whates has a note at the end of the book about the end of the David Gemmell Awards and the anthologies. He mentions they were a commercial and critical success which is good to hear. Not everything in the Legends anthologies was my cup of tea but there was enough that I liked. I never regretted buying and reading the books. I generally even liked the stories outside of my preferred boundaries. The books were very well done in presentation and layout. You can order Legends III (and the other volumes) directly from Newcon Press. Tell Ian that I sent you.