Conventions (DMR Books): The 19th annual Windy City Pulp and Paper Convention took place this past weekend in Lombard, IL. It was a three-day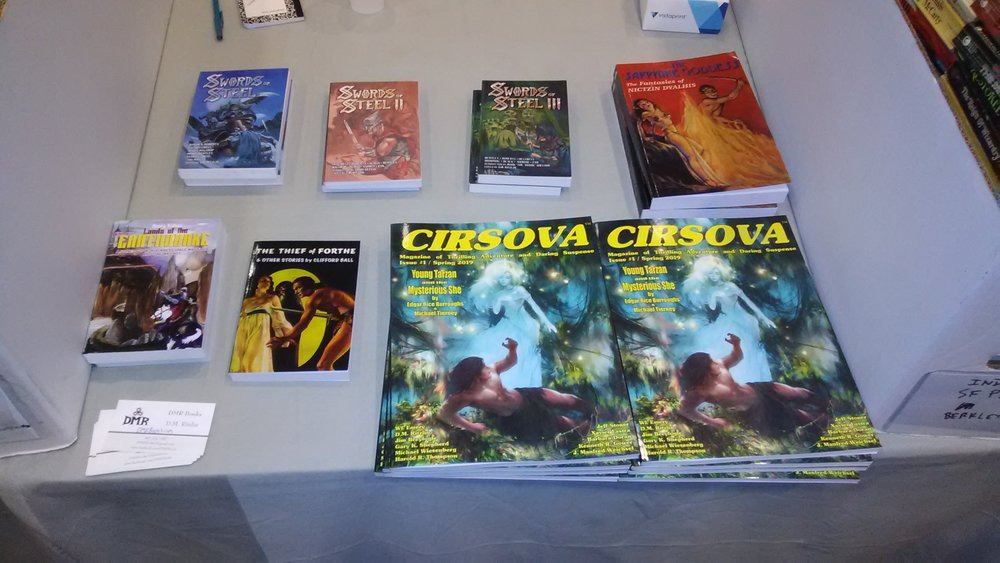 affair, but unfortunately I was only able to attend for part of the day on Saturday. Five hours may seem like a good amount of time, but it wasn't nearly enough to take in all the event had to offer.
Doug Ellis and Deb Fulton were gracious enough to share some of their table space with me so I could peddle DMR releases.
Anthologies (Tip the Wink): This nineteen story anthology is edited by one of Baen's best, Hank Davis. Though the book is pretty new, the stories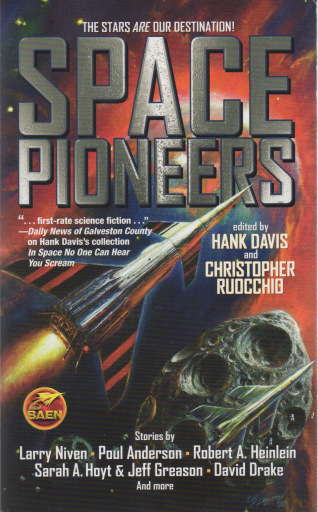 range from as early as the Thirties all the way to now. So I think it qualifies as a Friday Forgotten Book for it's contents. For the most part, this is the kind of science fiction I grew up on and still love.
Fiction (Old Style Tales): Doyle's final great horror story is truly a worthy swan song – a tale who's science fiction maintains a level of effective awe in spite of having been categorically disproven by aviators a mere decade after being written. And indeed the tale is science fiction, fitting snuggly on a shelf between the speculative horror of H. G. Wells which preceded it and the cosmic terror of H. P. Lovecraft which succeeded it.e cosmic terror of H. P. Lovecraft which succeeded it.
Myth (Men of the West): Of all these Latin chroniclers by far the most important was Geoffrey of Monmouth, Bishop of St. Asaph, who finished his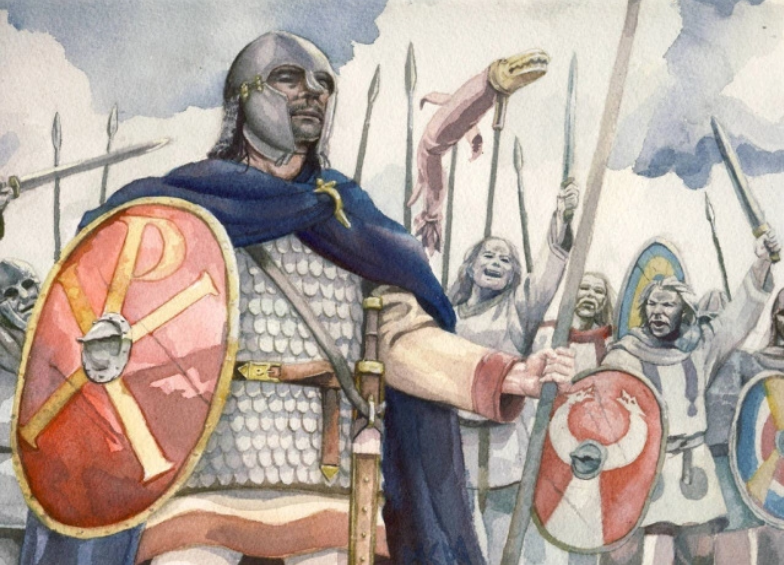 "History of the Britons" about 1147. Geoffrey, as has been said, is not a real historian, but something much more interesting. He introduced to the world the story of King Arthur, which at once became the source and centre of hundreds of French romances, in verse or prose, and of poetry down to Tennyson and William Morris. To Geoffrey, or to later English chroniclers who had read Geoffrey, Shakespeare owed the stories of his plays, "Cymbeline" and "King Lear".
Authors (DMR Books): James Branch Cabell, who was born on April 14, 1879–just over one hundred forty years ago–has slipped into genteel literary obscurity. An author once praised and befriended by the likes of Mark Twain, F. Scott Fitzgerald and Sinclair Lewis, JBC had his entire fantasy epic, known as "The Biography of the Life of Manuel," printed in a uniform hardcover eighteen-volume set at the height of his popularity in the 1920s and early '30s. He was, by far, the preeminent American literary fantasist of that era. And yet, he is barely known outside hardcore literary fantasy circles now.
Cinema (Rough Edges): I didn't mean to write about two Raoul Walsh movies in a row, but that's the way it's worked out after last week's post on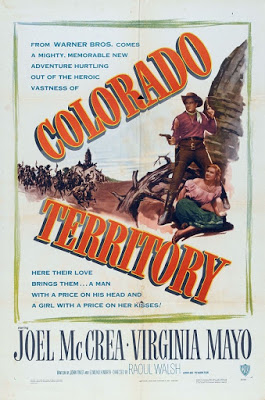 DESPERATE JOURNEY. COLORADO TERRITORY is a Western remake from 1949 of the Humphrey Bogart classic HIGH SIERRA, also directed by Walsh eight years earlier in 1941. Both are based on the novel HIGH SIERRA by W.R. Burnett. In COLORADO TERRITORY, Joel McCrea plays outlaw Wes McQueen, in prison for robbing banks and trains, who is broken out so he can take part in a payroll heist from a train in Colorado.
Popular Culture (Jon Mollison): Long time genre fans expect to see the usual Boomer perspectives.  Naturally, his version of the story of science fiction begins and ends with the era of the Boomers. To be fair, he is a film guy making a film about film people, so it's no surprise that his documentary would ignore the foundational stories of the genre.  It does start with HG Wells, but then skips straight past four decades of science fiction to land on rubber monster B-movies. The usual Big Pub diversity hires get trotted out to offer Narrative Approved talking points about how the genre has matured under the careful guidance of perverts like Arthur C. Clarke without a mention of giants like Howard and Burroughs and Lovecraft and Merritt and the rest of the True Golden Age writers.
Star Wars (Kairos): Two cultural observations that have repeatedly been made on this blog are that Star Wars has been weaponized against its original fans and that decadent Westerners are perverting normal pious sentiment by investing it in corporate pop culture products.
Now a viral video has surfaced that documents the unholy confluence of both phenomena. Watch only if you haven't eaten recently.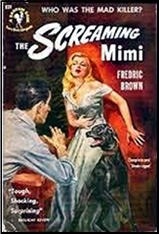 Cinema (Mystery File): I've spoken often and highly of Fredric Brown;s classic mystery novel of strip-clubs and theology, The Screaming Mimi (Dutton, 1949) and recently betook myself to watching both film versions of it, side-by-side and back-to-back, through the miracle of VCRm watching a chunk of one, then the other, than back again…
Pulps (John C. Wright): So what, exactly, makes the weird tales and fantastic stories of that day and age so "problematic"?
The use of lazy racial stereotypes, did you say? This generation has just as many or worse ones, merely with the polarities reversed. See the last decade of Star Wars, Star Trek, Doctor Who and Marvel comics franchises, for examples.
The portrayal of women as weak damsels in distress? I will happily compare any number of Martian princesses or pirate queens from the pulp era to the teen bimbos routinely chopped up in the torture porn flicks of this generation, and let the matter of malign portrayals of women speak for itself.
Fiction (Nerds on Earth): Howard Andrew Jones (who we've interviewed not once, but twice!) strikes that balance masterfully in For the Killing of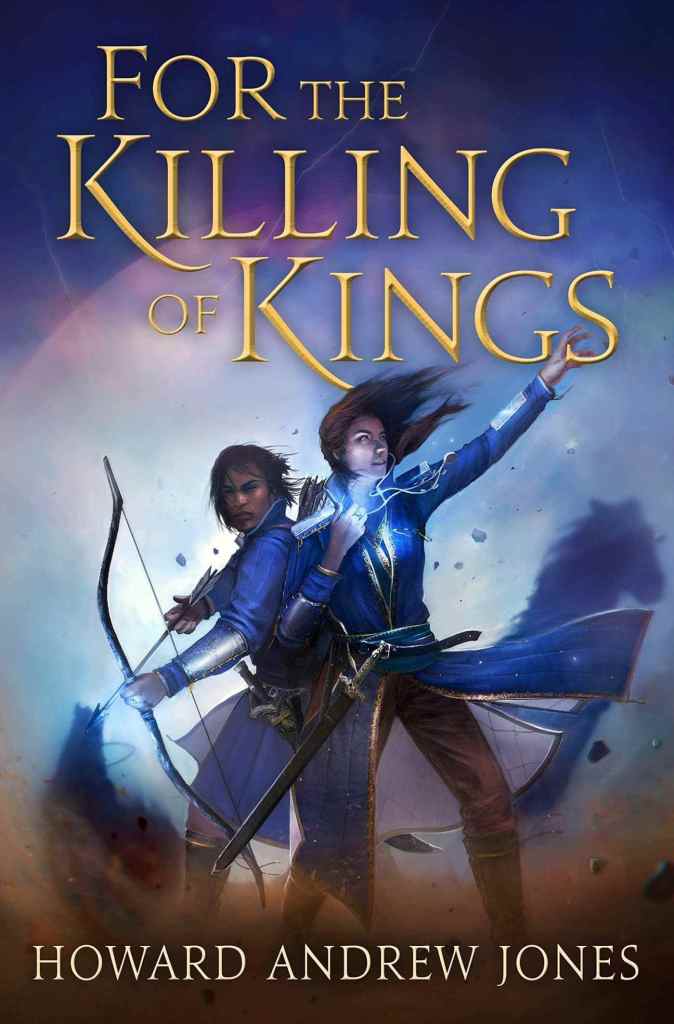 Kings, the first book of an expected series. The book drops the reader right at the moment when a scandal in the Allied Realms begins. This controversy involves the legendary weapon of the most famous commander of the vaunted Altenerai Corps, N'lahr. Jones doesn't even let two pages pass before the reader is invited into the discovery that something is wrong with this magic-infused sword, and it is that problem that carries the book's action from start to finish.
History (Black Gate): Enter the Western Frontier Force, a hastily assembled group of men from all parts of the empire that included two of the war's
many innovations. The first was the Light Car Patrol, made up of Model T Fords that had been stripped of all excess weight (even the hood and doors) so they could run over soft sand. Many came equipped with a machine gun. Heavier and slower were the armored cars, built on the large Rolls Royce chassis and sporting a turret and machine gun.
Westerns (Tainted Archive): Geographically and historically the concept of "The West" is very loosely defined, when associated with the literary and film genre of the western. With the possible exception of the Eastern Seaboard almost every part of the USA had been called "The West" at some stage in the country's history.
Authors (John C. Wright): Gene Wolfe passed at his Peoria home from cardiovascular disease on April 14, 2019 at the age of 87.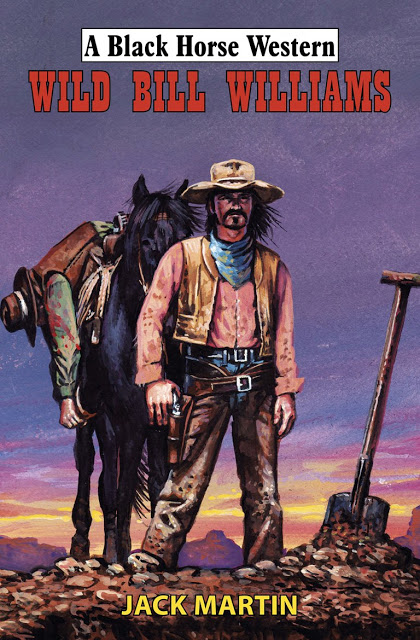 This man is one of two authors who I was able to read with undiminished pleasure as a child, youth, man and master.
I met him only briefly at science fiction conventions, and was truly impressed by his courtesy and kindness. We shared a love of GK Chesterton. I never told him how I cherished his work, and how important his writings were to me.
Authors (Rich Horton): Gene Wolfe died yesterday, April 14, 2019 (Palm Sunday!) His loss strikes me hard, as hard as the death last year of Ursula K. Le Guin. Some while I ago I wrote that Gene Wolfe was the best writer the SF field has ever produced. Keeping in mind that comparisons of the very best writers are pointless — each is brilliant in their own way — I'd say that now I'd add Le Guin and John Crowley and make a trinity of great SF writers, but the point stands — Wolfe's work was tremendous, deep, moving, intellectually and emotionally involving, ambiguous in the best of ways, such that rereading him is ever rewarding, always resolving previous questions while opening up new ones.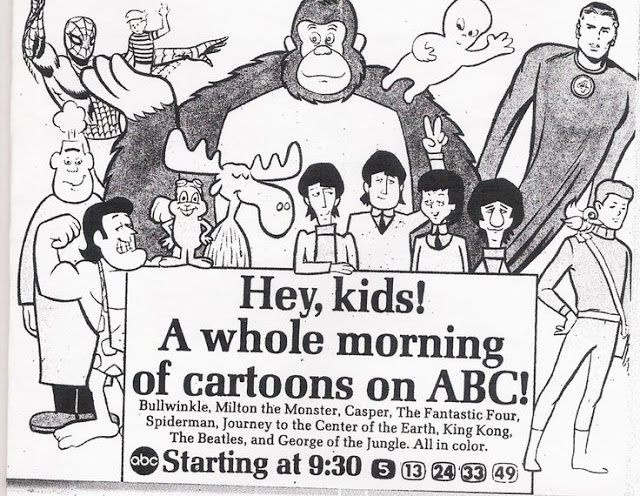 Cartoons (Wasteland and Sky): One small loss of the modern age I've always been interested in is the death of the Saturday morning cartoon.
For over half a century they have lingered in the memories of just about everyone alive in the western world as part of some long ago age that will never return. But nobody talks about them beyond nostalgic musings. The problem with that is they require a deeper look than that. I don't think it's clear exactly why they do not exist anymore, and it is important why they do not.
Fiction (Tip the Wink): It's the stories, not the book, that are forgotten here. From the publisher's website: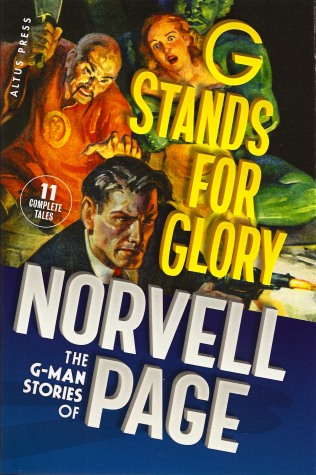 "Known best for his work on Popular Publications' The Spider, pulp scribe Norvell Page proved he was no slouch when it came to penning gangster and G-man epics! This book collects all eleven stories Page wrote for "Ace G-Man Stories" between 1936 and 1939, which are reprinted here for the first time!"
RPG (Modiphius): Horrors of the Hyborian Age is the definitive guide to the monstrous creatures inhabiting the dark tombs, ruined cities, forgotten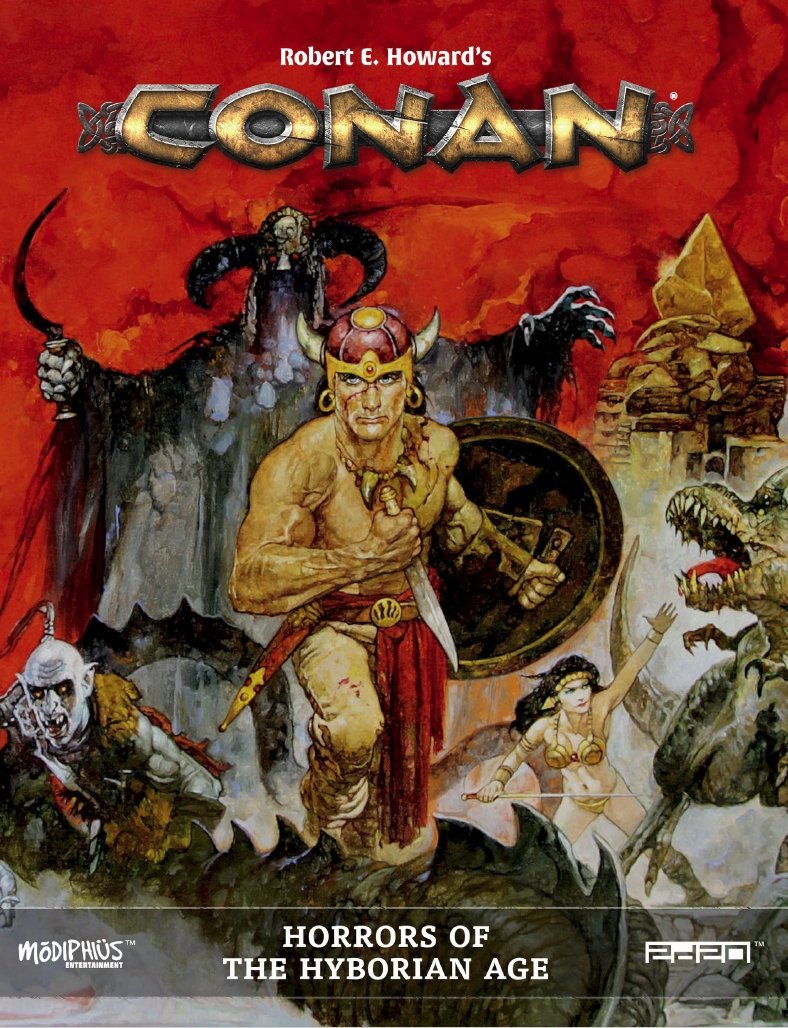 grottos, dense jungles, and sinister forests of Conan's world. This collection of beasts, monsters, undead, weird races, and mutants are ready to pit their savagery against the swords and bravery of the heroes of the Hyborian Age.
Drawn from the pages of Robert E. Howard's Conan stories, this roster also includes creatures and alien horrors from H.P. Lovecraft's Cthulhu Mythos, to which Howard inextricably bound his Hyborian Age. Other entries are original, chosen carefully to reflect the tone and dangers of Conan's world.