The Green Dream, by Bryce Walton, appeared in the Winter 1949 issue of Planet Stories. It can be read here at Archive.org.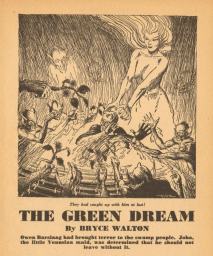 Even though I took Walton to task for his 5-point letter on illogical themes in STF, I've got to admit that between Savage Galahad and The Green Dream, I'm fairly impressed by his ability to convey the alien and the weird.
In The Green Dream, drug lord Owen Baarslag is accompanied by a strange alien girl, Joha, on his quest for revenge.
Owen is quite a heel:
To the Tellurian colonists scattered minutely through the rich area of Sector 5, Owen Baarslag was an unspeakable obscenity. A degenerate derelict; an abnormal who had "gone native" and things even more despicable. A Stith addict who eked out a precarious existence in the most polluted occupation known: that of forcing the timid Venusian swamp natives to harvest the meagre crops of aukweed from the lake bottoms.
He wasn't always, though. He was once a scientist, quite brilliant, actually, until he was outlawed by the academy. Owen forever harbors a grudge against his twin brother, Albert, also a brilliant scientist, who was the one who turned in the very psyche eval that condemned him.
Owen has plotted an exacting revenge that involves murdering his twin brother and taking his place in his greatest accomplishment: entering the Time-Encystment chamber which will allow him to jump 500 years into the future with all of his brother's fame and accolades, leaving his past disgrace behind him.
Needless to say, this isn't going to work out how he plans.
The most fascinating part of the story, where Walton really shines, is in Owen's relationship to the alien girl, Joha. Owen's sickly dependence upon her, her hatred for him, and how it manifests, and how it leads to his undoing is brilliantly handled. Plus, Walton succeeds in making her really weird!
Don't forget! The Illustrated Stark 70th Anniversary Edition of Leigh Brackett's Queen of the Martian Catacombs is out from Cirsova Publishing next Tuesday!