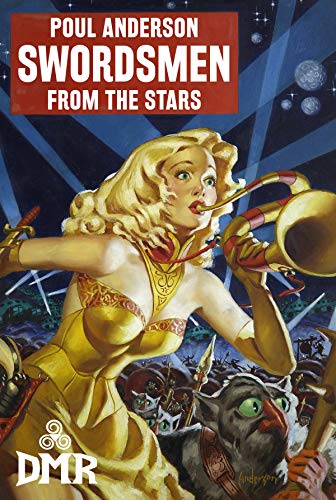 The newest offering from DMR Books is Swordsmen from the Stars. This book collects three novellas by Poul Anderson that originally appeared in the magazine Planet Stories, all in 1951. Anderson was one of the stalwarts if not the main writer for Planet Stories in the early 1950s. He wrote adventurous space opera for the most part but indulged in a unique type of story. I wrote in "Men are from Mars, Women are from Earth-Sea" that Planet Stories had a type of story set on another planet but had the attitude and delivery of sword-and-sorcery fiction. Anderson more than Leigh Brackett and Alfred Coppell wrote stories that I call "Howardesque." The stories were set on another planet with some pseudo or super science standing in for sorcery but the stories were inspired by Weird Tales.
Anderson was a writer who could give me a thrill and there aren't many who do that. I first read "Witch of the Demon Seas" in the anthology Swords Against Tomorrow. I eagerly read "Swordsman of Lost Terra" when I found a copy of the iconic anthology Swordsmen in the Sky. It took me years before I got the issue of Planet Stories containing "The Virgin of Valkarion." In "Witch" and "Valkarion," Anderson channeled Robert E. Howard. I could never understand why these stories were never collected into one book. I read once that Anderson really did not want them reprinted with the hint of some sort of embarrassment of youthful enthusiasm over skill.
"Witch of the Demon Seas" (Planet Stories, January 1951) might be set on Venus with a barbarian pirate captured and forced on a quest. Anderson's original title was "Demon Journey." 20,700 words.
"The Virgin of Valkarion" ("A Night in Valkarion") (Planet Stories, July 1951) appears to have a Martian setting with a wandering barbarian mercenary who gets caught up in skullduggery. 15,700 words.
"Swordsman of Lost Terra" ("The Piper of Killorn") (Planet Stories, Nov. 1951) is set in the far future where the Earth has stopped rotating leaving a narrow strip of inhabitable territory and a tribe on the move. 19,400 words.
So, this book is 55, 800 words of pulse pounding pulp sword and super science. The format is trade paperback. Layout is easy on the eye with some nice flourishes with fonts at the beginning of paragraphs.
I was going to indulge in speculation on hypothetical Poul Anderson collections but will save that for another day.