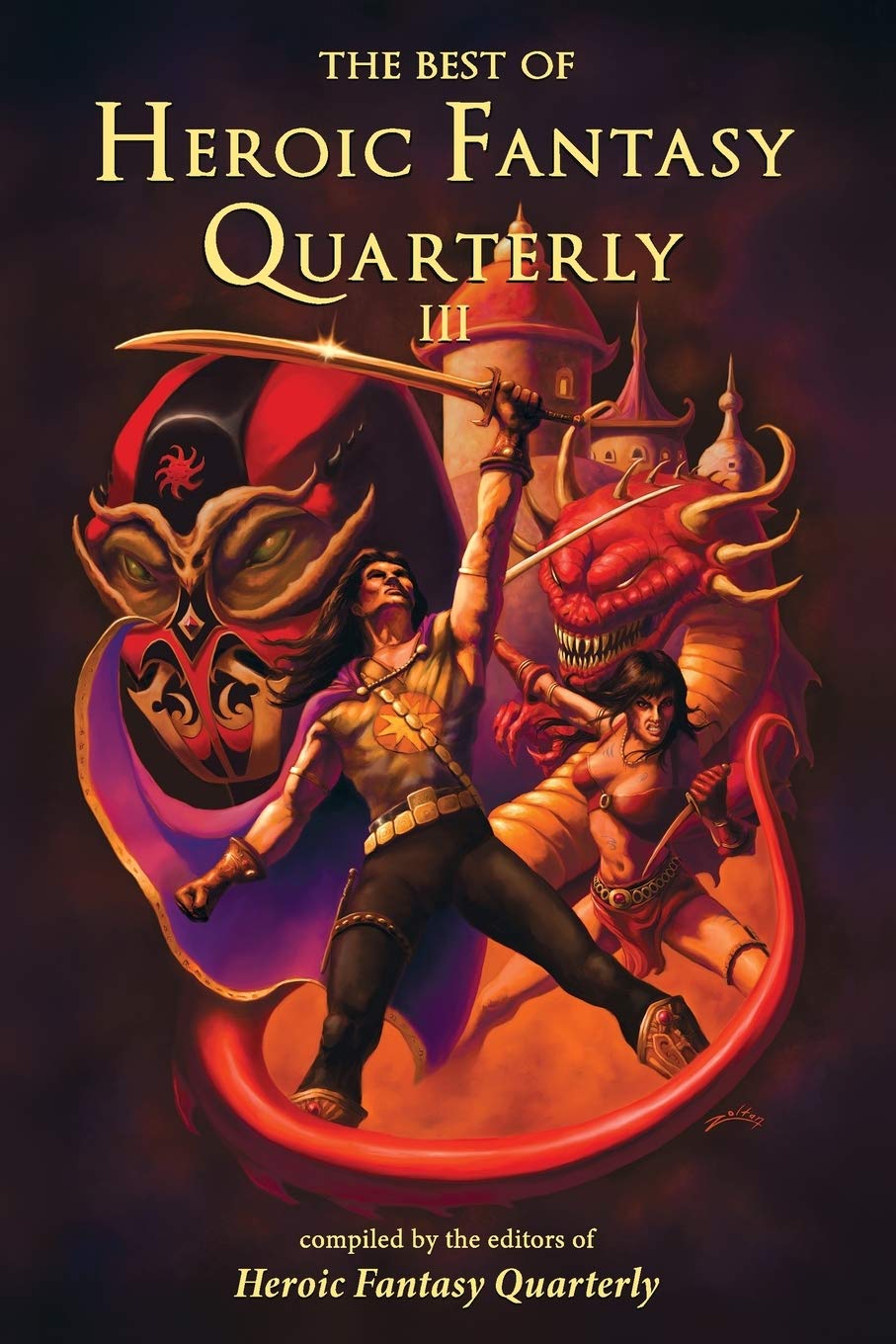 Every two years, a new Best of Heroic Fantasy Quarterly volume is out. I reviewed Volume 1 in 2016, Volume II in 2018.
The Best of Heroic Fantasy III covers 2013-2015. Format is trade paperback. Cover is classic sword and sorcery by Robert Zoltan, 289 pages of text with a few end pages on Kickstarter contributors.  Fourteen stories and seven poems.
Introduction by Darrell Schweitzer entitled "Sword and Sorcery is What I Mean."
I originally read Charles Gramlich's "A Whisper in Ashes" in Twilight Echoes. It appeared in Heroic Fantasy Quarterly first. It has a northern setting featuring Krieg. Krieg comes across a village with a problem. Krieg agrees to help the Jarl in dealing with a supernatural menace.
Cesar Alcazar's "A Lonely Grave on the Hill" is a ghost story set in medieval Ireland during the Viking Wars. I want to read more by Alcazar.
"Corinth" by Gerald Henson is told in the first person in a sort of stream of consciousness. I am not sure if this is a fantasy place with the name Corinth or the actual Greek city of Corinth.
Colin Heintze's "The Last First Time" has a desert setting with a character returning year after year to relive events on the anniversary of the destruction of a city. He attempts to change the outcome. This reminded me of Clark Ashton Smith's Zothique stories with one of the best turnarounds I have seen in a long time.
Sixteenth Century Meso-America is the setting for Evan Dicken's "Mouth of the Jaguar." A woman warrior from a destroyed city gets a chance of survival sent to retrieve a forbidden item from an abandoned city.
You don't see 18th Century Balkans as a setting but considering the Gothic potential, it should be used more. "A Matter of Goats" by Ben Fenwick has a pair sent to the Balkans to observe an astronomical event get involved with an ancient evil.
The Clark Ashton Smith influence is present again with "The Tomb Robber's Tale" by Sean P. Robson. Two Lemurian thieves attempt to pilfer an Atlantean tomb to their peril.
"Lady Cardula and the Gryphon" by Shawn Scarber is very short and a little different in tone from most of the contents with some black humor.
"Shadows and Foxfire" by R. Michael Burns is another of his Hokage the Samurai stories. Hokage deals with a type of un-dead at an out of the way inn.
"With a Golden Risha" is the third story I have read by P. Djeli Clark. This one has airships! A troubadour, Saleh, gets bound up with pirates.
Editor Adrian Simmons has a story with "Bronze-Ard, the Ferret Master, and Auspicious Events at Swift Creek Farm." I will characterize it as Watership Down meets The Hobbit. This is a different sort of story, but Simmons makes it work.
I once read that Kiowa Indians once raided as far as the Yucatan Peninsula in Mexico. Eric Atkisson has a Comanche warrior in Nicaragua in the 1850s. American filibusters, a Spanish warlock, and ghost with a skeletal horsehead are all part of the story.
Cullen Groves "The Madness of the Mansa" has a pseudo-African setting. A corrupt merchant attempts to use Draba the sailor in a swindle of the ruler of Asongai. This was light on the supernatural element but had some good action.
Necromancy is the subject of "The Reeds of Torin's Field" by Andrea G. Stewart. A bounty hunter is tempted by a sorceress bent on conquest with an army of the dead.
I read some good-sized sections of the book in one sitting. None of the stories bored me. Some were outside of my usual fare, only one story that I really did not like. I think this is the best volume yet. I don't know if editors David Farney and Adrian Simmons are really working with the writers to get the best story possible or if they are just lucky. Good product takes work, so I am guessing probably the first option. This is a quality presentation. In a better world, this would be a book picked up by one of the Big 5 and distributed to the chain bookstores. Reading this was a totally different experience from reading The Book of Swords.  Cost is $14.99 at Amazon.