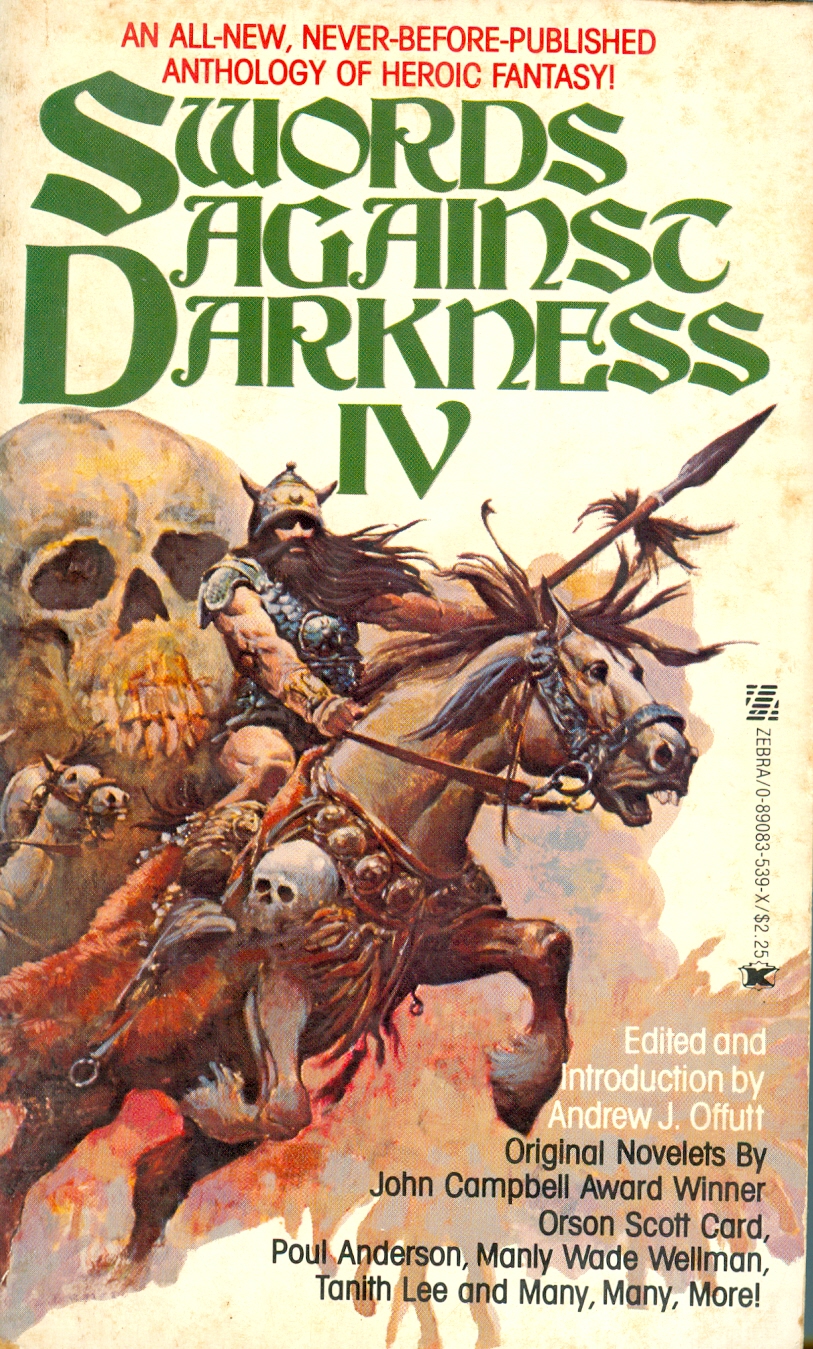 I received word a little over a week ago that Charles R. Saunders had died back in May.
I first heard of Charles Saunders in late 1983 from Bill who used to work at Phantom of the Attic on South Craig Street in Pittsburgh. I must have been discussing sword and sorcery with him when he said: "There is a new Imaro book coming out." I asked what was an Imaro? He proceeded to tell me that Imaro was a Conanesque sword-and-sorcery character set in an alternate Africa. Sounded intriguing.
My path converged with Charles Saunders and Imaro in early 1984. I took the bus trip from Oakland to downtown Pittsburgh, then the walk over the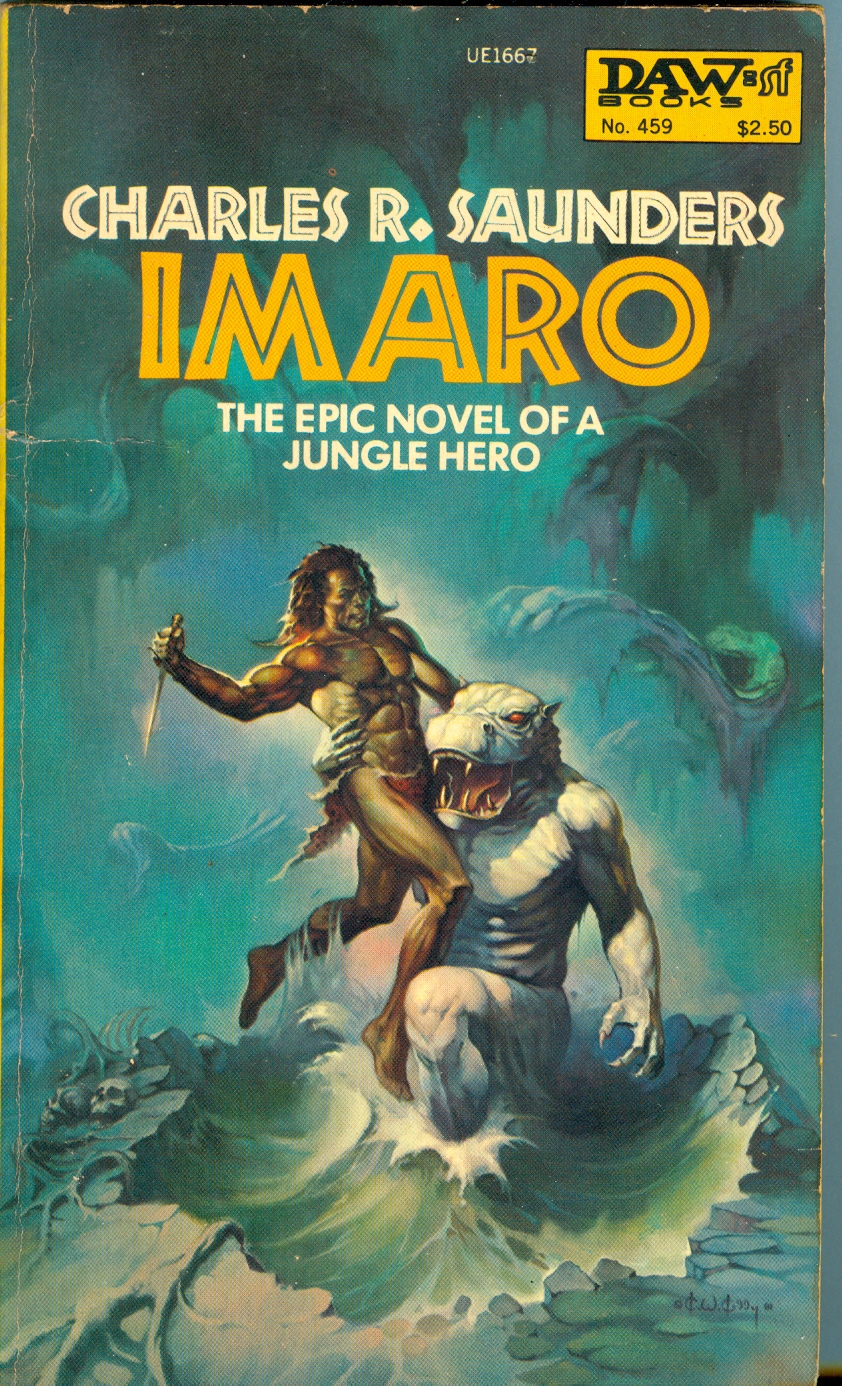 Sixth Street Bridge to Eide's. That was the first location of Eide's. It was a store that carried punk rock records, comic books, and science fiction books (and a few pulps).  On that trip, I picked up the sword-and-sorcery anthologies Swords Against Darkness IV and V edited by Andrew J. Offutt. Not the recent anthology from Prime Books that used the same title by an editor who must not have any knowledge of the genre. I had read the first Swords Against Darkness over Christmas break a few weeks before and enjoyed most of the stories enough to seek out more.
Swords Against Darkness IV (Zebra Books, Sept. 1979): The first story was Charles R. Saunders' "Mai-Kulala." This was my first exposure to Imaro:
"And never before had its insular folk encountered any the like of the stranger who was striding boldly up the dusty footpath that served as the road to Kulala. He was a tall man, tall as a giant, or even the Sky Walkers of times older than ancient. For all his height, the stranger was of massive physique, with thews that perfectly balanced power and litheness. He was an outlander; that was obvious enough, with his horned, spired helmet of Zanjian vintage and mesh-mail cuirass that could only have been made in Azania. . .Yet the string of lion teeth about his thick neck and the marozi-skin girding his loins signaled the untamed; the barbaric. Predatory flame burned within his jet-black eyes, reinforcing an impression of latent menace."
Saunders took a page from Robert E. Howard's description of Conan in "Queen of the Black Coast" for setting up a dramatic entrance.  "Mai-Kulala" was a story that was down-beat in its ending. This was not some light-hearted "Ho, onto the next adventure" on the lines of Lin Carter.
A few months later I picked up the paperback Imaro (D.A.W. Books #459,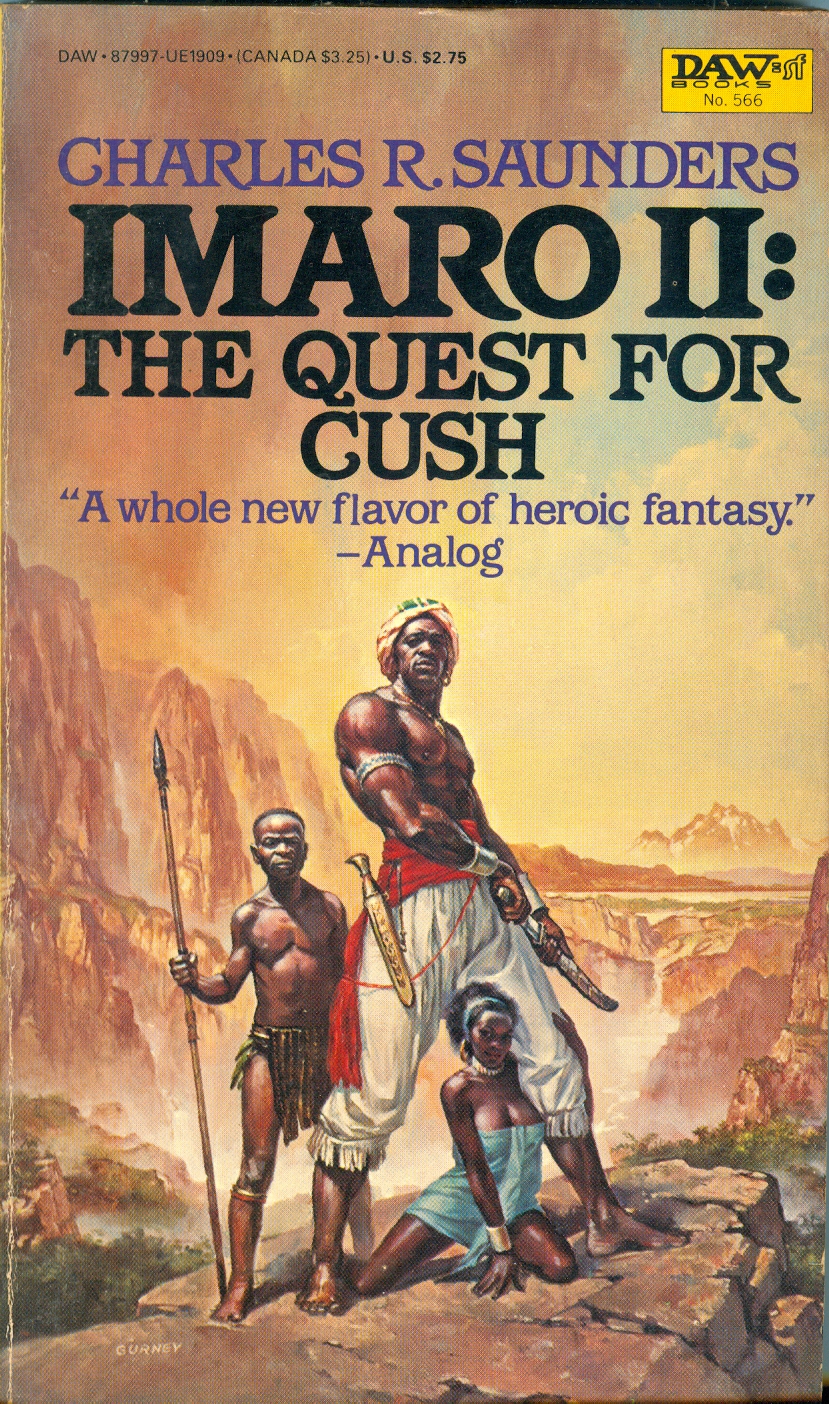 Nov. 1981) at the now defunct Atlantic Bookstore on Forbes Ave. I devoured it. Saunders did everything right with sword-and-sorcery: a mighty warrior, good horror element, fast pace, and very good detail. His Nyumbani was an alternate Africa with various cultures from across time co-existing the way Robert E. Howard did with the Hyborian Age. Imaro II: The Quest for Cush had come out in February 1984. I blew through that. I started keeping an eye out for more Saunders as he has become one of my favorite sword-and-sorcery writers.
I started picking up small press zines from the 70s at Eide's, including Fantasy Crossroads. Saunders had a chapter in the round robin novel Ghor Kin-Slayer. Again, his instincts were correct in that chapter set in Nemedia at the end of the Hyborian Age.
The third Imaro novel The Trail of Bohu proved to be a problem in getting. Released in October 1985, I could not find it anywhere in Cleveland. I took the bus to downtown Cleveland checking with some bookstores. Nothing. It wasn't until February 1986 I found a copy at you guessed it, Eide's.  You could find Marion Zimmer Bradley's Warrior Woman everywhere. Seems like I even saw a promotional display for it at bookstores, but no Imaro. The Trail of Bohu sold poorly. No doubt as it was almost impossible to find. That was the excuse used to kill the series. At this point, Betsy Wollheim was making many if not all the decisions for D.A.W. Books. The imprint underwent a radical change away from the type of fiction that Donald A. Wollheim had published and pulse pounding sword-and-sorcery was banished.
He had some stories in the anthologies Amazons! and Sword and Sorceress.
He was the main reasons I bought those books.
A mutual friend got me in touch with Charles Saunders in 1992. Then began a correspondence that lasted until his death. In the 90s, he seemed almost embarrassed by his blood-and-thunder fiction. He was writing for a newspaper in Halifax, Nova Scotia, and some non-fiction pieces including boxing. Over time, fans of his fiction made him re-examine his fiction. A big part of that was an unfinished overview by the late Steve Tompkins on Imaro in his Robert E. Howard United Press Association zine. Steve discussed underlying themes in the Imaro stories that gave a greater depth to the stories. I had an interview with Saunders in my REHUPA zine Forgotten Ages. We would discuss world events, music, movies, books.
Interest grew in Saunders' fiction. Night Shade Books reprinted Imaro which was rewritten to remove a story ("Slaves of the Giant Kings") and replace it with a new one in 2006. Bad luck seemed to follow the series after Night Shade dropped the series for poor sales after two books. Another small press imprint took over and published the third and finally The Naama War in 2009 which Saunders had written for D.A.W back in the 80s.
I have written pieces on the anthology Griots which Saunders co-edited, Abengoni: First Calling, and Nyumbani Tales. I last read new fiction by him in The Mighty Warriors wherein he had a new Imaro tale.
I last heard from him last fall when he was very excited about a project of adapting his work to celluloid. Our contact was infrequent the past ten years with a flurry of e-mails on some subject and then months apart. I was getting nervous that I had not heard from him. We discussed health issues in the past as he was a Type 2 diabetic who became diet controlled through weight loss. The announcement of his death said he passed from natural causes.
Of the writers of the small press in the 1970s, only a few made the jump to paperbacks: Charles de Lint, David C. Smith, Richard L. Tierney to a degree, and Charles R. Saunders. Karl Edward Wagner was a paperback writer first, David Drake started with Arkham House. Saunders had a vision that was able to bridge the divide from saddle stapled wraps digests to the mass-market paperback.
Charles Saunders (1946-2020) – farewell friend. Thanks for the great reading. I hope that after you see your mother, Karl Edward Wagner is waiting and says "Charles, this is Bob."