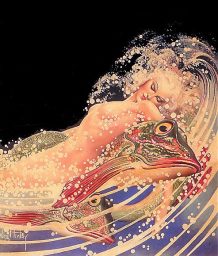 You may have noticed some new bloggers debuting here in the past couple of weeks… and there are so many getting on board, you may have missed one!
Here they are:
Jon and Nathan you'll recognize from the excellent Puppy of the Month Book Club. Scott came into the ranks via Wargame Wednesday last year, did some  interviews for us… and has now moved up to being a regular columnist. Brian did some excellent guest posts on his Oriental Adventures campaign last year and is covering role-playing games for us now. H. P. does a prodigious amount of book blogging at Every Day Should be Tuesday and has graciously given us first dibs on his fantastic Throwback Thursday series. Rawle Nyanzi has been published in Sci Phi Journal, but his first big splash was kicking off an Appendix N series of his own. Kevyn blogs about vintage science fiction and more over at Actually…. And Nick Cole. If you don't know who Nick Cole is, you need to go get a copy of Ctrl Alt Revolt! right now. It's awesome!
This is a very big deal that takes this blog to the next level practically overnight. If you like what you see here, please take a moment to comment on these guys' posts and link to them on social media. Because these are the people that are making it happen.